50 / 50 Pausing for Reflection
50 / 50 Pausing for Reflection
Sculptures of Chantz Perkins, 10 April – 30 May, 2010
Opening: Sunday, April 11, 2010, 4 – 6 pm
ABC Treehouse, Voetboegstraat 11, 1012 XK Amsterdam, Holland
Opening times: Friday – Sunday 1 – 6pm or by appointment.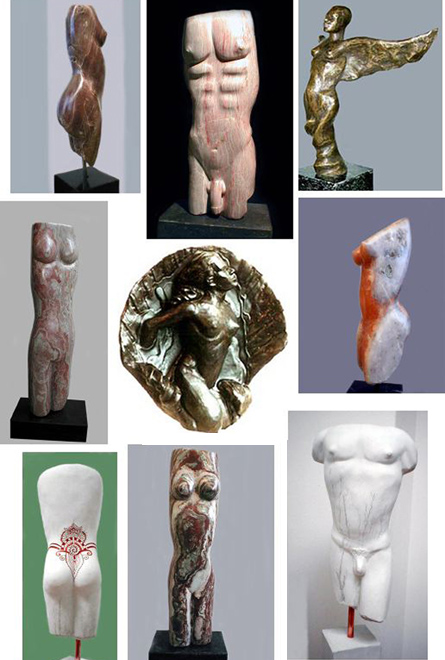 Sculptures by Chantz Perkins
Chantz Perkins On Her Work:
The stone stands as what it is: a beautiful piece of nature. What humans are still in awe of. A reflection of the land it came from. The colors of the sky and mountains and plants which once surrounded it. The sculpture stands as what I have made from it: my own interpretation of the human body as a perfect creation.
While running in the Flevo park, I looked out on the water and saw not the horizon of never ending life, but the edge at which it ends. 50 is my age, and my timeline, as I expect to live to 100.
50/50 is not a philosophy but a fact. All of us have that in life. If we are willing to risk. In the last year I have met so many who are no longer ok with the way things have been. When the old ways just plain aren't working, aren't keeping people happy or safe or even fed, humans risk change. I see people risking to take a chance to share – their ideas, their networks, their money, their time. People's expertise is again appreciated and sought after. All people are included in this – young and old. Educated or not. It is a time of incredible change. And we can all learn something from each other.
And Chantz continues, I hope you can come to the show – to see the work, yes, but as well to meet others to share and learn from. The conversation continues…
A blog of my journey in the life as artist is available to read and preview view work to be shown at the opening on April 11, 2010, at www.chantzperkins1.wordpress.com.
---
Tagged Artists in This Post:
---