Ecosexuals Unite For An Ecosex Symposium & Art Exhibit
SAN FRANCISCO, CA, USA - JUNE 17 & 19, 2011
The Ecosex Symposium II – a public forum where art meets theory meets practice meets activism – will take place June 17-19 at the Center for Sex & Culture in San Francisco, CA.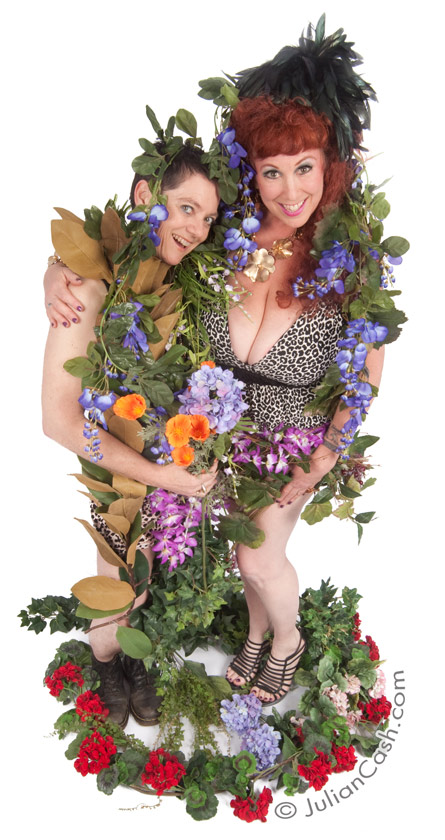 Ecosexuals Annie Sprinkle and Elizabeth Stephens, USA
What's an ecosexual? Why are skinny-dipping, tree-hugging and mysophila so pleasurable? Where is the e-spot? Can the budding ecosexual movement help save the world? What is this new sexual identity and environmental activist strategy all about? These are some of the questions that will be explored. Femina Potens Gallery is producing the event in collaboration with Center for Sex & Culture. Annie Sprinkle, Ph.D., a feminist-porn-star and artist turned "SexEcologist," and Elizabeth Stephens, a UCSC art professor and environmental activist are organizing this event. The two women explain, "as a strategy to create a more mutual and sustainable relationship with our abused and exploited planet, we are changing the metaphor from the Earth as mother, to Earth as lover."
Sprinkle and Stephens kick off the weekend with their "Ecosex Manifesto," an art exhibit with new collages, wedding ephemera (they married the snow in Ottawa, the moon in Los Angeles and the mountains in West Virginia), and a manifesto. They have also invited a dozen other artists to display their related works. Ecosexual author of the seminal text, Gaia and the New Politics of Love, Serena Anderlini, Ph.D., from the University of Puerto Rico will present the keynote address. What is Ecosexual Love?: A Guide to the Arts and Joys of Amorous Inclusiveness. Good Vibration's sexologist, Carol Queen, Ph.D., will explore The Sexology of Ecosexuality. Dr. Robert Lawrence, Ph.D. will cover ecosex fetishes. Also presenting is Madison Young, the award winning queer porn movie director and the Femina Potens Gallery director. She will cover the Greening of the Sex Industry. Artist Tania Hammidi will perform a dance piece about conflict, genocide and olive trees in the Middle East. Other presenters are artists Dylan Bolles & Sasha Hom, Amy Champ, and the legendary porn actress, Sharon Mitchell, Ph.D., who will talk about The Sensual Pleasures of Gardening. The author of the book Ecosex; Go Green Between the Sheets and Make Your Love Life Sustainable, Stephanie Iris Weiss will be Skyping in from New York. Erospirit Institute director, Joseph Kramer, Ph.D. will guide the group in some somatic ecosex practices. Amy Marsh shares how toxins ate her sex life, and performance artist Tessa Wills offers an Anal Ecology performance piece. There are twenty five scheduled presenters, and there will also be an open mic forum for attendees to share their work and ideas. Becka Shertzer's Brazennectar and Mister Cream team up to create and serve a gourmet, "ecosexi-love-a-licious" vegan lunch.
Expected to attend the conference are artists, activists, theoreticians, nature fetishists, environmentalists, ecosex community movers and shakers and people from many other walks of life. These events are sponsored by Femina Potens Gallery in collaboration with the Center for Sex & Culture. Stephens and Sprinkle received a cultural equity grant from the San Francisco Arts Commission to help make it all possible. All the details and advanced tickets are available at SexEcology.org The producers of these events say that their aim is to "make the environmental movement a little more sexy, fun and diverse." They'd also like to see an "E" added to GLBTQI.
SCHEDULE OF EVENTS
Friday, June 17
7:00-9:30 ECOSEX MANIFESTO ART EXHIBIT OPENING RECEPTION &
ECOSEX SYMPOSIUM RECEPTION (Everyone is invited. Free.)
All three days of events will be held at the new Center For Sex & Culture, 1349
Mission Street. (Between 9th and 10th)
[SAN FRANCISCO, CA, USA]
Saturday, June 18.
ECOSEX SYMPOSIUM 11 ($35. for the whole symposium.)
10:30 AM to 10:45 PM
Sunday, June 19
10:00-1:30
ECOSEX MANIFESTO ART EXHIBIT
The Ecosex Manifesto Art Exhibit will be open for public viewing for a month through July 24th. Check SexEcology.org for gallery hours.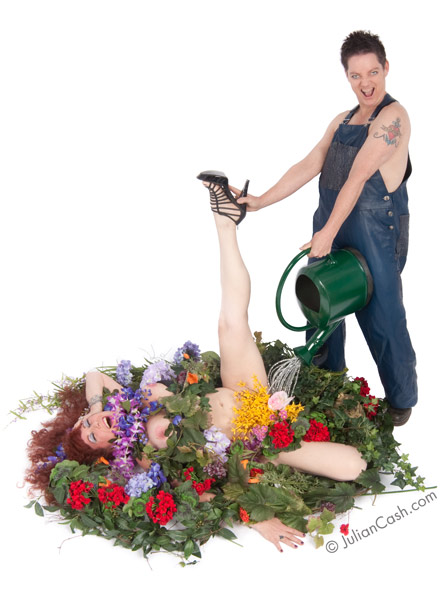 Ecosexuals Annie Sprinkle and Elizabeth Stephens, USA
RELATED EVENTS
June 16, 8:00 Femina Poten's ECOSEXUAL QUEER PORN NIGHT—At Artists' Television Access (ATA), 992 Valencia St., San Francisco, CA
June 19 5:00-7:00 DIRTSTAR PERFORMANCES at the Tenderloin National Forest/Luggage Store,
1000 Market St., San Francisco, CA.
For all the information about the Symposium go to www.SexEcology.org
Contact: Center for Sex & Culture – 415-902-2071
Love Art Lab 415-847-1323
Annie Sprinkle – annie@anniesprinkle.org
Elizabeth Stephens – bethstephens@me.com