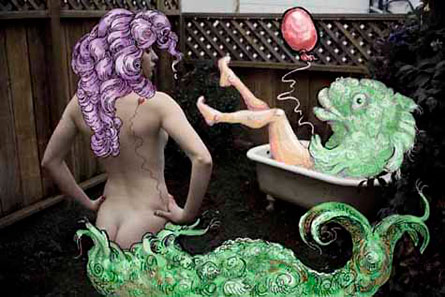 Mermaid  from the Impossible Couture series by Molly Crabapple and Najva Sol featured at the 'Queer Couture' art show, Femina Potens Gallery, August 2010
Femina Potens, a queer non-profit art gallery & performance space in San Francisco, USA, presents the group show 'QUEER COUTURE' August 2010. Their press release reads:
'We're excited to be able to present to you this sexy, fashion-forward, Queerest of Haute-Queer shows! For the entire month you can catch a stunningly off-center multimedia art show that combines the fashionably distinguished photography, couture designs, and textile installations by artists Najva Sol, Molly Crabapple, Mev Luna, Jesse Trepper, Corey Gunter Brown & Cassidy Wright. Come Dress Your Inner Couture with Your Outer Queer amongst these outrageous designs and explore what queer identity and alternative fashion are really about with those that know what Taking it Off and Putting it On really mean.
Femina Potens is known for it's risqué behavior and wants you to explore your options with up-and-coming designers of fashion-as-art & art-as-fashion! We welcome you to:
The Opening Reception & Artist Talk at 7pm on Saturday evening, August 7, 2010
Partake in artistic insight, refreshments and libations during opening night and introduce yourself to the artists. And of course, keep coming all month long as we bring you an array of enticing workshops, performances and events. Show runs through August 28, 2010.'