Edited by Anna McNay and Birthe Havmoeller
Inspired by Kathleen Massara's list 17 Must-See LGBTQ Exhibitions This Summer in New York and California, Anna McNay and I have created Feminine Moments' list of Must-See Queer Feminist Exhibitions in Europe this Summer. The exhibitions we have selected for this list feature works by Lesbian, Bisexual and Queer Women Artists. The first one on the list, Tamara de Lempicka in Turin, Italy, scores very highly on the red-lips-and-nice-tits-scale (!)
Some of the other exhibitions are more "queer" and some of the women artists are very subtle or academic in the way in which they integrate the queer/homosexual/political queer feminist in their creative practice. All the group exhibitions are mixed, so these exhibitions include works by gay male artists too – the most interesting are perhaps the gay artists from China who will be presented at the Antwerp Queer Arts Festival at the beginning of August.
Tamara de Lempicka
Dates: March 19 – August 30, 2015
Venue: Palazzo Chiablese, Turin, Italy
The exhibition features more than 80 works by the bisexual Polish artist Tamara de Lempicka (1898-1980). It not only showcases de Lempicka's most iconic erotic paintings of women, it also features erotic drawings, lots of sensual vintage Hollywood-style photographs of the artist and a series of her photographs of nude models. The exhibition gives you the opportunity to discover new aspects of Tamara's life and artistic career.
Curator: Gioia Mori
Links: http://www.mostratamara.it/la-mostra/
Patricia Cronin: Shrine for Girls
Dates: May 9 – November 22, 2015
Venue: Chiesa di San Gallo, Venice, Italy
In her site-specific installation Shrine for Girls, New York-based lesbian artist Patricia Cronin (US, 1963) commemorates three horrendous events: the rape, murder and hanging from trees of three girls in India in June 2014 (the "mango tree rape case"); the kidnapping of 276 female students by the jihadist militants of Boko Haram in Nigeria in April 2014; and the many young women pushed into forced labour in the Magdalene asylums and laundries in Europe and North America from the late-18th century to as recently as 1996. The installation is a collateral event of the Venice Biennale, presented by The Brooklyn Rail Curatorial Projects.
Curator: Ludovico Pratesi
Link: http://www.studiointernational.com/index.php/patricia-cronin-shrine-for-girls-venice-biennale-video-interview
Cabello/Carceller, Francesc Ruiz, Pepo Salazar + Salvador Dalí:
Los Sujetos (The Subjects)
Dates: May 9 – November 22, 2015
Venue: Spanish Pavilion, 56th Venice Biennale, Venice, Italy
Artistic duo Cabello/Carceller was formed in 1992 by Helena Cabello (FR, 1963) and Ana Carceller (ES, 1964). Alongside Francesc Ruiz and Pepo Salazar, they are this year's Spanish offering at the Venice Biennale, in a group exhibition that seeks to reinterpret and reposition Salvador Dalí from a contemporary perspective, exploring the artist as he is known through his words and his interviews. Cabello/Carceller's work is a site-specific installation entitled The State of the Art _a performative essay. Incorporating elements of performance, film and installation, the work is rooted in feminist methodologies ,queer theory and the Brechtian aesthetic, offering a critical insight into the definition of identity and the political fight of the individual.
Curator: Martí Manen
Links: http://cabellocarceller.info/engl/index.php?/projects/the-state-of-the-art/
http://www.e-flux.com/announcements/the-spanish-pavilion-at-the-56th-venice-biennale-the-subjects/
Here We LTTR: 2002–2008
Dates: May 23 – September 27, 2015
Venue: Tensta Konsthall, Spånga, Sweden
'A border-crossing approach that is characteristic for queer feminism, a feministic movement that is not so easy to define.' This exhibition brings together the archives of LTTR, a feminist, genderqueer artist collective, originally based in New York in the 2000s. The collective – whose acronym LTTR can be read in various ways, including Lesbians To The Rescue, Listen Translate Translate Record, Lesbians Tend To Read and Lacan Teaches To Repeat – catalysed a vibrant queer community through collaboration, discourse, journal making and distribution. The collective's groundbreaking work, including the five issues of the journal, as well as photographs and other documentation of its social energy, is being exhibited for the first time at Tensta Konsthall, where local and international guests connected to LTTR and queer art, activism, and research, will guide a series of walk-throughs.
Link: http://www.tenstakonsthall.se/?here-we-lttr-20022008
Homosexuality_ies / Homosexualität_en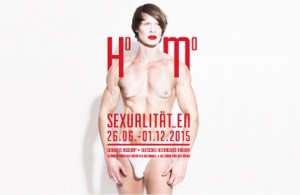 Dates: June 26 to December 1, 2015
Venues: Schwules Museum* and the Deutsches Historisches Museum, Berlin, Germany
Homosexualität_en shows how same-sex sexuality and non-conformist gender identities have been criminalised and socially repressed and it tells the story of the LGBT liberation movement. The section of the exhibition on view at the Deutsches Historisches Museum focuses on historical developments in the fields of society, politics, art, law and science since the "discovery" of homosexuality in the mid-19th century. The section of the exhibition on view at the Schwules Museum* consists of contemporary artworks and addresses the present and future of gender codes and sexualities. Participating artists: Monica Bonvicini (IT/DE), Louise Bourgeois (FR/US), Heather Cassils (CA/US), Michael Elmgreen (DK) and Ingar Dragset (NO), Nicole Eisenman (FR/US), Lotte Laserstein (DE/SE), Lee Lozano (US), Jeanne Mammen (DE), Zanele Muholi (ZA), Henrik Olesen (DK), Andy Warhol (US), Mary Coble (US/SE), Sturtevant (US), Sam Taylor-Johnson (UK) and others.
Curators: Dr. Birgit Bosold, Dr. Dorothée Brill and Detlef Weitz
Link: http://www.schwulesmuseum.de/en/exhibitions/view/homosexuality-ies/
[Poster: Homosexuality_ies. Photo credits: Heather Cassils and Robin Black ]
Ident-alter-ity
Dates: June 17 – July 31, 2015
Venue: Thessaloniki City Hall, Thessaloniki, Greece
The concept of otherness, of the strange or the different is inherent within our identity. In an age that has seen a rise in neo-conservatism, racist, homophobic, lesbophobic and transphobic behaviours, attacks against women and discrimination based on race, nationality, sexual orientation and gender identity, Ident-alter-ity is a group exhibition addressing the issues of gender and self-determination. The exhibition is a part of the 5th Thessaloniki Biennale of Contemporary Art. Participating artists: Lynda Benglis (US), Ursula Biemann (CH), Pauline Boudry and Renate Lorenz (CH-DE/DE), Marianne Darlen Solhaugstrand (NO), Yevgeniy Fiks (RU/US), Kostis Fokas (GR/UK), Hector de Gregorio (UK), Igor Grubic (HR), David Hockney (UK), Deborah Kelly & Tina Fiveash (AU), Majida Khattari (MA/FR), Carlos Motta (CO/US), Slava Mogutin (RU/US), Natasha Papadopoulou (GR), Antonis Protopatsis (GR), Wolfgang Tillmans (DE/UK), Boryana Rossa – Oleg Mavromatti (BG/US-RU), Milica Tomic (RS).
Curators: Theodore Markoglou, Art Historian – Curator at the State Museum of Contemporary Art and Syrago Tsiara, Art Historian – Director of the Contemporary Art Center of Thessaloniki
Link: http://www.femininemoments.dk/blog/ident-alter-ity-thessaloniki-2015/
Pauline Boudry and Renate Lorenz: Loving, Repeating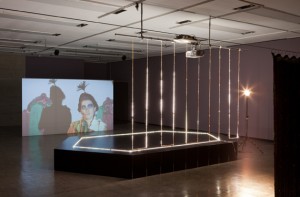 Dates: June 11 – October 4, 2015
Venue: Kunsthalle Wien, Vienna, Austria
The queer artist duo Pauline Boudry (CH-DE, 1972) and Renate Lorenz (DE, 1963) present three video-based works and a series of new sculptures, which make up an atmospheric, time-reflective installation as part of Future Light, the visual arts part of the Vienna Biennale 2015. Pauline Boudry and Renate Lorenz create video performances, making use of a dense net of references to experimental film, the history of photography and underground (drag-) performance.
Curator: Maria Lind, Director Tensta Konsthall, Stockholm
Link: http://www.femininemoments.dk/blog/loving-repeating-by-pauline-boudry-and-renate-lorenz/
[Press photo: Installation view: Future Light. Pauline Boudry / Renate Lorenz. LOVING, REPEATING, Kunsthalle Wien 2015, Photo: Stephan Wyckoff ]
Criss-crossing Connections. Mette Winckelmann and Concrete Art
Dates: June 20 – August 30, 2015
Venue: Sorø Kunstmuseum, Sorø, Denmark
The 100th anniversary of the amendments to the Danish constitution, which introduced democracy and women's right to vote in Denmark, has prompted the Sorø Art Museum to cast a critical eye on its own collection and the power structures it represents. Artist and lesbian Mette Winckelmann (DK, 1971) was invited to evaluate the museum's collections and to reflect on its concrete art acquisitions from the 1950s. She responded by drawing many connections – some obvious, some startling – which linked the collection to various paintings, sketches and textile works from other collections. This web of connections is criss-crossed by links to some of Winckelmann's own works, which take a dual point of departure in abstract geometric imagery and in classic techniques from textile work.
Curators: Helle Brøns, Sorø Kunstmuseum and Mette Winckelmann
Link: http://www.sorokunstmuseum.dk/en/exhibitions/current
Agnes Martin
Dates: June 3 – October 11, 2015
Venue: Tate Modern, London, UK
This is the first retrospective exhibition of works by Canadian-born painter Agnes Martin (1912-2004) since 1994. The exhibition spans Martin's entire career, from her figurative paintings of the early 1950s to her grid-based works and line drawings just before her death in 2004. Agnes identified with the Abstract Expressionists, and was born in the same year as Jackson Pollock, but her commitment to linear geometry caused her to be associated in turn with Minimalist, feminist, and even outsider artists. She vehemently denied being a feminist, however, as well as a lesbian (numerous relationships with fellow women artists are known to have taken place) and, at one point, even a woman. Agnes was headhunted in 1957 by gallerist and lesbian Betty Parson, who became her first dealer. Her career was punctuated by episodes of schizophrenia.
Curators: Tiffany Bell and Frances Morris
Link: http://www.tate.org.uk/whats-on/tate-modern/exhibition/agnes-martin
Claude Cahun – Photographies, dessins, écrites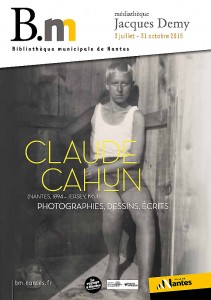 Dates: July 3 – October 31, 2015
Venue: Médiathèque Jacques Demy, Nantes, France
The experimental self-portraits by surrealist artist Claude Cahun (1894-1954), born a native of Nantes, under the name of Lucy Schwob, have gained international recognition and have been exhibited around the world. This exhibition, however, presents not just her photographs but also her graphic works, publications and letters.
Curators: Claire Lebossé and Marion Chaigne
Link:
https://bm.nantes.fr/home/espaces-dedies/patrimoine/les-collections-a-la-loupe-1/en-ce-moment.html
[Cover of the programme by Médiathèque Jacques Demy]
Claude Cahun and Marcel Moore – A Life Defiant
Dates: March 15 – September 6, 2015
Venue: Jersey Museum and Art Gallery, Jersey, UK
French artists and lesbians Claude Cahun (1894-1954) and Marcel Moore (1892-1972) challenged the boundaries of gender and sexual identity, campaigned against tyranny and resisted Nazi occupiers. They created some of the most startlingly original and enigmatic photographic images of the 20th century. They were an extraordinary couple, who lived, loved and worked together for more than 30 years. For the first time this exhibition examines their history of defiance, from the forming of their lesbian relationship in the early 1900s, through Claude's exploration of her self-image and multiple personalities in conservative post-war France, to her anti-Fascist political protests of the 1930s and anti-Nazi resistance activities of the 1940s.
Organiser: The Jersey Heritage Trust
Link: http://www.jerseyheritage.org/whats-on/claude-cahun-and-marcel-moore
Germaine Krull (1897-1985) – Un destin de photographe
Dates: June 2 – September 27, 2015
Venue: Jeu de Paume, Paris, France
From nudes to surreal collage, street scenes to portraits, a new exhibition charts the astonishingly modern work of maverick photographer Germaine Krull (1897-1985). A pioneer of photojournalism, bisexual Germaine moved across Europe in the 1920s and 30s, mixing with left-leaning intellectuals and pushing boundaries, both in her work and as a woman. Germaine then settled in Paris where she worked in the 1930s. After serving as a war photographer from 1943–45, she moved to Thailand and then settled in India, where she converted to Buddhism and worked to preserve its cultural heritage.
Curator: Michel Frizot
Link: http://www.jeudepaume.org/index.php?page=article&idArt=2208

Nicola Tyson: Goodbye/Hello
Dates: June 10 – July 25, 2015
Venue: Nathalie Obadia, Paris, France
Lesbian artist Nicola Tyson (UK/US) is primarily known as a painter, however drawings are also central to her creative practice. The absurd has always been an important ingredient in her work: humour veering toward the satirical and often the hysterical. In Self-portrait: Weeping (2015), the artist references Picasso's crying woman, but here it is her own experience that she describes. Nevertheless, her nose seems to double as a penis, literally ejaculating into her face.
Organiser: Nathalie Obadia
Links: http://www.contemporaryartdaily.com/2015/06/nicola-tyson-at-nathalie-obadia/
http://www.galerie-obadia.com/artist_detail.php?ar=22&af=1&p=3&g=2
Pride Photo Award
Dates: July 31 – August 19, 2015
Venue: Foam Café, Foam, Keizersgracht 609, 1017 DS Amsterdam, Holland
Pride Photo Award is celebrating its fifth anniversary this year. This photography exhibition at Foam challenges mainstream gender stereotypes by showcasing photographs from the previous four editions of the Pride Photo Award exhibition. The works, which show the diversity of LGBT communities and counterbalance the often one-sided images of lesbians, gays, bisexuals and transgender people in the media, are made by photographers and artist who consider sexual and gender identity an important, often personal subject. Participating artists: Erica Beckman (US), John Paul Evans (UK), Mads Nissen (DK), Farida de Pauw (UK), Chris Rijksen (NL), Anna Charlotte Schmid (DE), Hinda Schuman (US) and Aldo Soligno (IT).
Curator: Kim Knoppers
Links: http://www.pridephotoaward.org/archives/6201
http://www.foam.org/about/press-office/pride-photo-award
Antwerp Queer Arts Festival – Queer Art in China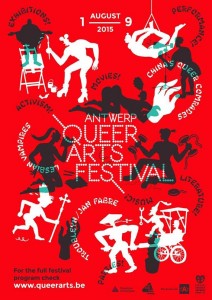 Dates: August 2 – 9, 2015
Venue: Verbeeck-Van Dyck, Antwerp, Belgium
This summer, the gallery Verbeeck-Van Dyck and Antwerp Queer Arts Festival will present a Chinese LGBT art exhibition. Participating artists are: Yuan Yuan, Xiyadie AKA the Siberian Butterfly, Shi Tou & Ming Ming, Xu Yadong, Huang Yue and Flour. Chinese filmmaker and photographer Yuan Yuan specialises in conceptual photography, combining photography and contemporary art to make her pictures about gender identity.
Organiser: Antwerp Queer Arts Festival
Links: https://antwerpqueerartsfestival.wordpress.com/
https://www.facebook.com/events/947123131994191/
[Antwerp Queer Arts Festival, poster 2015]