Laurie Toby Edison – New Exhibitions
Press release from Laurie Toby Edison

Marlene by Laurie Toby Edison
Laurie Toby Edison:
I am delighted to tell you that I have work in exhibitions on 3 continents in the next two months.
In Osaka, as part of the NMAO's 40th anniversary exhibition [at the National Museum of Art, Osaka, Jan 20-May 6, 2018], I have an audio piece evoking my work in progress Memory Landscapes: A Feminist Memoir. It's part of German artist Karin Sander's installation ZEIGEN – An Audio Tour through the collection of NMAO, as part of "Travelers: Stepping into the Unknown. She has invited artists to describe their work: museum attendees listen through headphones while facing a blank wall. Sanders has done similar installations in such places as Berlin, San Francisco, and Vienna.
Using audio as part of my art has been both interesting and exciting. When Karin Sanders invited me I was very glad that I had already added audio to Memory Landscapes, so that I had some experience and had put much thought in working with it. Creating the audio piece was challenging and very enjoyable.
In Budapest, [Hungary; Jan 18-Feb 10, 2018], the PH21 Contemporary Photography Gallery is mounting Staged, photographs of constructed or staged scenes. I am exhibiting Marlene – a very different kind of portrait for me.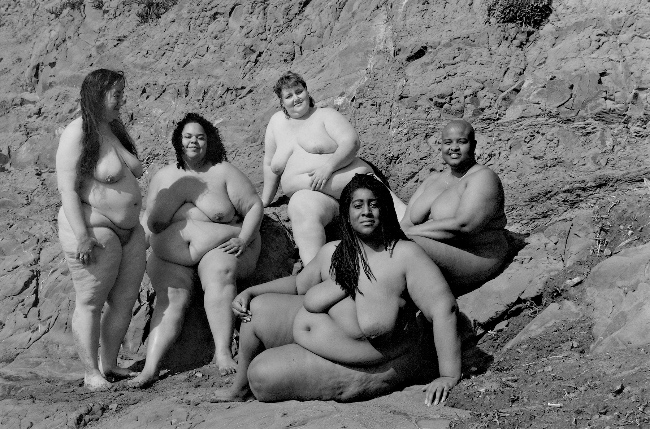 Debbie Notkin, April Miller, Carol S, Queen T'hisha, and Robyn Brooks by Laurie Toby Edison
Last but by no means least, the photo of Debbie Notkin, April Miller, Carol S, Queen T'hisha, and Robyn Brooks taken at Baker Beach in San Francisco for Women En Large, is in Art Speaks! at the Arena 1 Gallery, Santa Monica Art Studios [Los Angeles Feb 21-Mar 10, 2018], in conjunction with the national convention of the Women's Caucus for the Arts.