Zanele Muholi on Swedish National TV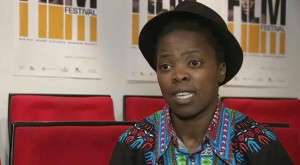 Zanele Muholi talks about 'Difficult Love' on Swedish National TV. Zanele Muholi was in Stockholm, Sweden end of March 2010 to talk about her film. The short film 'Difficult Love' is a portrait of visual activist Zanele Muholi from Sout Africa and her portfolios of fine art photography. – It is a highly personal take on the challenges facing Black lesbians in South Africa today that emerges through Muholi's life, work, friends and her associates.
Muholi says "It's me, then connecting the viewer with other people I am photographing and have crossed paths with. I share with the audience the person that I am, my family structure and the other relationships within that and the homophobia we face as black lesbians."
See 'Difficult Love' online
The short film about queer photographer Zanele Muholi is available for online viewing. It is free! > Register at IMDb.com (The Internet Movie Database), and when you have completed your IMDb registrati​on by activating your account, then return to this link for viewing: Difficult Love. Enjoy the video!
Related Links
Zanele Muholi's website
---
Tagged Artists in This Post:
---