Top 10 American Queer Feminist Artists
Feminine Moments' list of amazing queer feminist artists in the US.
1 Patricia Cronin
2 Annie Leibovitz
3 Catherine Opie
4 Harmony Hammond
5 Alison Bechdel
6 Clarity Haynes
7 Mickalene Thomas
8 Laurie Lipton
9 Beth Stephens & Annie Sprinkle
10 Carrie Moyer & Sheila Pepe
1 Patricia Cronin
Patricia Cronin (born 1963) is a conceptural artist, who manipulates and reinvigorates traditional historical forms to adress contemporary issues of sexuality, gender and class. She has taught at many art schools and in the Graduate Art Programs at both Columbia University and Yale University. Since 2003 she has been a Professor of Art at Brooklyn College of The City University of New York, including Claire and Leonard Tow Professorships (2013-14) (2018-2020). Her work focuses on power and powerlessness, absence and presence, and history. She makes paintings, watercolor, sculptures and installations. In 2002 New York artist Patricia Cronin made a sculpture, which is a 'Memorial to a Marriage'. She and her partner of 17 years painter Deborah Kass thought that they would never get to marry as gay marriages are prohibited in USA when the life-size 3 ton Carrara marble mortuary sculpture, a double portrait of her and her partner in their bed was made. In 2013, the United States became the 29th country in the world, out of 195 countries, legally recognizing same sex marriage. Patricia and Deborah were married on Manhattan the first day that same sex marriages could be performed in New York. The live and work in New York.
2 Annie Leibovitz
Annie Leibovitz (born 1949) is a great artist and an amazing portrait photographer through five decades. She and philosopher and writer Susan Sontag were lovers from 1989 – 2004, when Susan died. Annie is known for her engaging portraits, particularly of celebrities, which often feature subjects in intimate settings and poses. She photographed the Rolling Stones in San Francisco in 1971 and 1972, and served as the concert-tour photographer for the Rolling Stones' Tour of the Americas '75. She worked for 13 years for the Rolling Stones Magazine. She is the first woman to have a feature exhibition at Washington's National Portrait Gallery. She has published numerous art books. In 2007, a major retrospective of Leibovitz's work was held at the Brooklyn Museum. The retrospective was based on her book, Annie Leibovitz: A Photographer's Life, 1990–2005 and included many of her professional (celebrity) photographs and numerous personal photographs of her family, children, and partner Susan Sontag. Annie lives and works in New York.
3 Catherine Opie
Catherine Opie (b. 1961) is an artist working with photography, film, collage, and ceramics. Opie received a B.F.A. from the San Francisco Art Institute, and an M.F.A. from the California Institute of the Arts in 1988. She holds the Lynda and Stewart Resnick Endowed Chair in Art at UCLA where she is a professor of Photography. Her work has been exhibited extensively throughout the United States and abroad and is held in over 50 major collections throughout the world. She is especially known for her queer photography from the early 1990s. Catherine was the Robert Mapplethorpe Resident in Photography at the American Academy in Rome for 2021. She was also a recipient of The Guggenheim Fellowship in 2019, The Smithsonian's Archives of American Art Medal in 2016, The Julius Shulman Excellence in Photography Award in 2013 and a United States Artists Fellowship in 2006. In September of 2008, the Guggenheim Museum in New York opened a mid-career exhibition titled, Catherine Opie: American Photographer. Her first monograph is Catherine Opie, (Phaidon, 2021). Catherine Opie lives and works in Los Angeles, California.
4 Harmony Hammond
Harmony Hammond is a queer feminist artist, art writer and independent curator. A leading figure in the development of the feminist art movement in New York in the early 1970s, she was a co-founder of A.I.R., the first women's cooperative art gallery in New York (1972) and Heresies: A Feminist Publication on Art & Politics (1976). Harmony's earliest feminist work combined gender politics with post-minimal concerns of materials and process, frequently occupying a space between painting and sculpture – a focus that continues to this day, where her recent paintings are in the centre of the debate about queer abstraction. Harmony's book, Wrappings: Essays on Feminism, Art and the Martial Arts (1984), is a foundational publication on 1970s feminist art. She is the author of the landmark book Lesbian Art in America – A Contemporary History (2000). Since 1984, Hammond has lived and worked in northern New Mexico, teaching at the University of Arizona, Tucson from 1989–2006.
5 Alison Bechdel
Alison Bechdel (born 1960) is an American cartoonist. Originally known for the long-running comic strip Dykes to Watch Out For. In 2006 with her graphic memoir Fun Home, which was subsequently adapted as a musical that won a Tony Award for Best Musical in 2015. In 2012, she released her second graphic memoir Are You My Mother? She was a 2014 recipient of the MacArthur "Genius" Award. She is also known for originating the Bechdel test to illustrate the dramatic gender disparity in Hollywood. In 2021 she published her first book in nearly 10 years, The Secret to Superhuman Strength. In this graphic memoir, Bechdel explored her interest in fitness crazes while addressing such issues as body image, interdependence, and mortality.
6 Clarity Haynes

The Body & Representation w/ Clarity Haynes – NYC Crit Club Summer Course 2023
Clarity Haynes is a queer feminist American painter and writer. Clarity Haynes portraits of bodies do not conform. She is known for the Breast Portrait Project, her unconventional painted portraits of torsos, focusing on queer, trans, cis female and nonbinary bodies. She got the inspiration for this feminist project which she has been working on for more than a decade at the Michigan Womyn's Music Festival and other feminist festivals, where women would be walking around without any shirts on feeling wonderfully confident about their bodies. Haynes describes her ongoing series Altars, an ongoing series from 2019, as queer feminist spaces liberated from patriarchy. She says: "In a time of toxic masculinity and violence, to put forth joyful feminist principles feels radical. To create one's own archive, altar, cosmology, autonomous space is an act of taking care." Clarity and her partner Kate have adjoining studios.
7 Mickalene Thomas
Mickalene Thomas (born 1971) is a contemporary queer feminist African-American visual artist best known as a painter of complex works using rhinestones, acrylic, and enamel. Mickalene's collage works often present black women and she draws on inspiration from popular art histories, famous paintings from the 19. century, her mother's magazines and her life in general. She is a queer woman of color representing women of color in a way that emphasizes their agency and erotic beauty. Mickalene has been awarded multiple prizes and grants and she has held residencies several residencies among others at Skowhegan School of Painting and Sculpture, Madison, Maine (2013) (resident faculty) and Versailles Foundation Munn Artists Program, Giverny, France (2011).
8 Laurie Lipton
Laurie Lipton is an American visual artist making works on paper. She has lived and worked in Holland, Belgium, Germany, France and London. She is now based in Los Angeles, California. She was the first person to graduate from Carnegie-Mellon University in Pennsylvania with a Fine Arts Degree in Drawing (with honours). She is known for her weird dystopian drawings of factories, huge control panels, skeletons, AI, bad dreams and madness reflects the confused zeitgeist of the 21. century. Her pencil drawings are huge and amazingly detailed. They take weeks or months to make. Her work has been exhibited extensively throughout Europe and the USA. Her exhibition Extraordinary Drawings by Laurie Lipton (2009-2010) was a part of Homotopia, the queer arts festival in Liverpool, UK. She compares her drawing to religious art in Europe in the 16. and 17. century. It is not works of art about Jesus' life but about her life.
9 Beth Stephens & Annie Sprinkle
Beth Stephens & Annie Sprinkle is an artists duo. They are self-declared eco-sexuals and have created multi-media art projects about love, sex, and queer ecologies together since 2002. Annie was a sex worker from 1973 to 1995 and morphed into a feminist performance artist and sex educator. In 1994, Beth became a professor of sculpture and intermedia at the University of California Santa Cruz, where she still teaches and directs the E.A.R.T.H. Lab. Their most notable performance series is Ecosexual Wedding Project – over the course of 9 years in 9 countries they orchestrated 19 ecosexual wedding performances where they made wows to each other and to nature entities. Over 1000 people contributed to the wedding performances. Their Wedding to the Earth and the Ecosex Manifesto launched the Ecosex Movement in 2008. These days the duo make environmental films with an ecosexual gaze; they also create theater, performance art, eco-activism, and produce symposiums and workshops. They were official documenta 14 artists, received a 2019 Eureka Fellowship, and a 2021 Guggenheim Fellowship. Beth and Annie are living in California.
10 Carrie Moyer & Sheila Pepe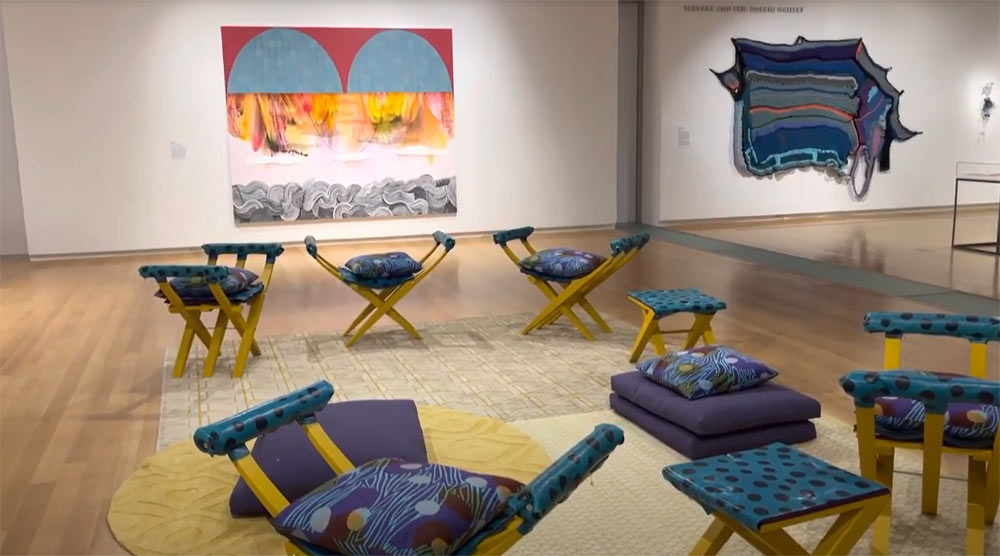 Carrie Moyer & Sheila Pepe are among the most high-profile queer couples in the contemporary art world in the US. Friends since 1995, partners since 1998, and legal spouses since 2015, Carrie and Sheila are well known for their individual practices: the former for radiant paintings in which abstract forms transmute into suggestive bodily shapes, the latter for enthralling fiber-based installations that recall spider webs. "Tabernacles for Trying Times" at the Museum of Arts and Design, 2021–22, was a drifting survey of the work of painter Carrie Moyer and sculptor Sheila Pepe; it celebrates the formal vision and feminist politics of two abstract artists who share an interest in glitchy beauty, vibrant color, and craft-store materials. The centerpiece is "Parlor for the People," from 2019, a hybrid of lounge and sanctuary, outfitted with textiles and furniture, beneath an extravagant canopy of clouds. The couple's more recent collaborations represent an exciting new advancement for these two radical artists' trajectories, as together they challenge the art world's understanding of craft while expanding definitions of abstract painting.