Editor of Feminine Moments – Queer Feminist Art Worldwide
// Write to me at: havmoeller@gmail.com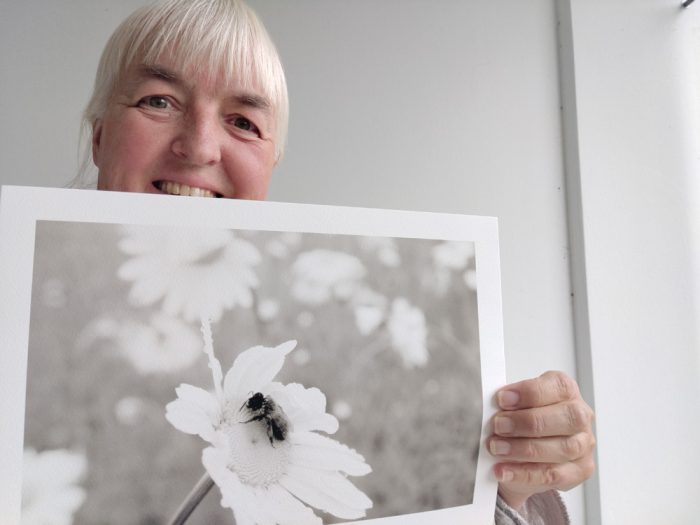 Flower and Bee (2022), inkjet print on Somerset archival paper, by Birthe Havmøller.
Birthe Havmøller (b. 1962): I am a Danish visual artist and queer feminist activist. I am based in a village near Aarhus, working from my home. I initiated the resource site and visibility project: Feminine Moments – Queer Feminist Art Worldwide, in 2003. The ongoing project has grown into a fine art blog and online platform presenting lesbian, bisexual and queer women artists and their art projects. Feminine Moments won the ILGCN's 'Orfeo Imago 2016' award for outstanding promotion of LGBT rainbow art and photography. As a visual artist, I have worked on photography-based art projects since the late 1980s. My black-and-white works are visual poems about my inner landscapes and Nature in Denmark, Sweden and England. Many of my projects are ongoing long-term projects, such as Nature hidden in plain sight. My other passion is queer tango. I initiated The Queer Tango (book) Project in 2013. I co-edit anthologies about queer tango with Ray Batchelor (London). Download our latest publication: Queer Tango Politics by Ray Batchelor (the Queer Tango Project, June 2023).