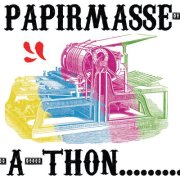 Papirmasse, in collaboration with Edmonton's Exposure: Queer Arts & Culture Festival, seeks artists and writers to collaborate in a day-long "Papirmasse-a-thon". Participants will gather together on October 20 to create a special edition of affordable art prints.
We are seeking 8 – 16 artists and writers who can commit to spending several hours in a workshop on October 20. Participants will work together to create a series of art work and writing that will be turned into prints, to be exhibited and distributed at the Exposure: Queer Arts & Culture Festival closing party. This is an exciting opportunity to collaborate with others in the Edmonton arts community and circulate your work to a diverse audience. The Papirmasse-a-thon will be hosted by visiting artist Kirsten McCrea, a Montreal-based painter who is also the Director of Papirmasse.
To apply, please send an introductory e-mail to Kirsten McCrea that includes a short biography, samples of your work (art or writing) and a brief statement outlining your interest in the project. Applications received before October 15, 2011 will be given preference: kirsten@papirmasse.com
Event times: 2 pm – 10 pm on October 20, 2011 at HIV Edmonton (9702 111 Ave).
Participants need not attend the entire event but should be able to commit to at least 3 hours.
Participants will receive a complimentary package of Papirmasse prints.
About Papirmasse
Papirmasse is an affordable art subscription that delivers a monthly print with art on the front and writing on the back for the incredible price of $5 a month! Our goal is to make art abundant and accessible. Founded in Edmonton in 2008, the project is currently run out of Montreal in collaboration between Kirsten McCrea and Maison Kasini. With subscribers in over 15 countries, we are waging a war against blank walls.
About Kirsten McCrea
Kirsten McCrea is an Edmonton-born, Montreal-based artist whose work explores issues of cultural memory, looking at pop vs. underground culture, the media, and popular mythologies. An internationally exhibited painter, in recent years Kirsten has become very involved in collaborative art-making: she is a core member of the celebrated collaborative painting crew En Masse (www.enmasse.info), makes live collage murals with Cease (www.cease.it) and directs Papirmasse, which features the work of a new artist and writer every month.
About Exposure
Exposure uncovers, highlights and celebrates queer arts and culture. The festival exposes queer artists to new audiences, and exposes Edmonton audiences to new art. Exposure presents queer artists working in diverse media. By creating environments where artists can explore queer culture and take risks, the festival cultivates creative synergies, thought-provoking displays, social commentary, and new possibilities for inhabiting sexuality and gender. Exposure questions and inspires, celebrates and expands the spectrum of queer expression.