Femina Potens Gallery in San Francisco writes: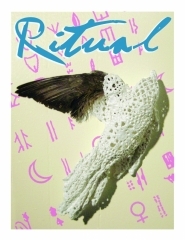 "Your favorite sexy gallery is back this November and just in time to add some steam to your cold winter months.  On November 5th, we are re-opening the studio to our fabulous community with our latest visual art exhibit 'Ritual'.  At a time of year where our own culture's rituals and traditions are inescapable, Femina Potens wants to explore ritualistic acts even deeper.
Artist Jeeti Singh has created a provocative exhibit that explores the figurative and literal bounds of tradition. Her series of paintings depict women bound in traditional Indian Prayer Poses that questions the role of tradition takes in our lives. Artist Shelley Monahan has experimented with portrayals of tradition's grotequeness within a society of mass consumption. Her display includes an eclectic mix of stuffed turkeys, tea parties, and animal carcasses that allude to a vision of nourishment perversed by humanistic enterprise. Finally artist Daisy Eneix, questions old religious traditions by creating her own religious artifacts. She celebrates the visceral and the ephemeral physicality of the present human condition in her series of reliquary scrolls and prints that recalls ancient religion and mythology.
Join us on November 7 at 6pm to learn more about the talented artists at the Artist Discusion Panel for Member and Press. The Opening Reception will follow at 7:30 pm for everyone as we ceremoniously celebrate cutting edge art and artists."
'Ritual' runs from November 5 – 29, 2009, at Femina Potens Gallery, 2199 Market St | San Francisco, CA 94114 US