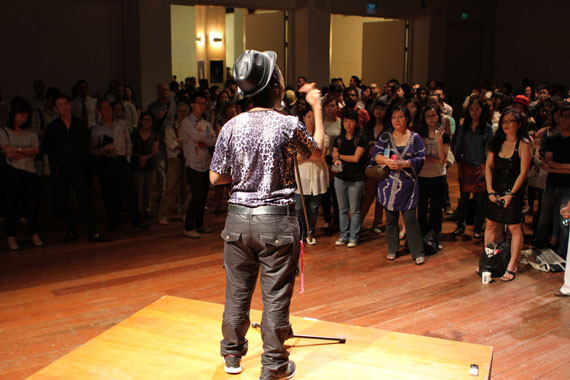 Visual activist Zanele Muholi gave a talk at The O.P.E.N in Singapore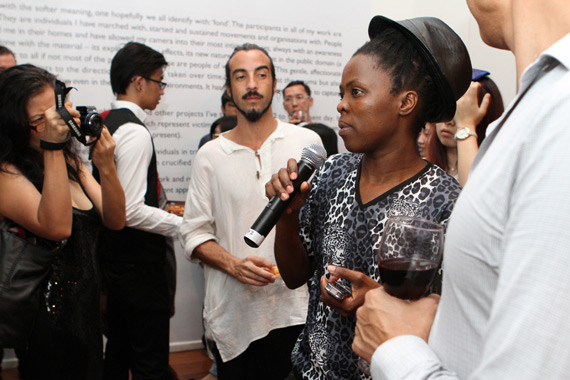 Zanele Muholi (with a mic) at the opening in Singapore
O.P.E.N. / Singapore International Festival of Arts 2014 (June 26 – July 12): Zanele Muholi attended the opening on June 26 and gave the talk: Collaboration, Art, Social Change (photos above). Her art project fo(u)nd with Faces and Phases is exhibitied at The O.P.E.N. The press release about her exihibition reads, "…Muholi captures the confidence, fearlessness and defiance of her subjects in a captivating visual history post-apartheid, while confronting stereotypes associated with gender and sexuality."
Visual activist Zanele Muholi has also a solo show, Zanele Muholi: Faces and Phases at Ryerson Image Centre, Toronto, Canada June 18 – August 24.
Zanele Muholi's Faces and Phases aims to address the representation of black lesbian and queer identity, focusing largely on post-apartheid South Africa. This ongoing series of large-format black and white photographs includes more than 240 portraits, of which 36 are exhibited in Toronto, Canada, to coincide with the celebration of WorldPride 2014.
Berlin: FINISSAGE of the Exhibition Zanele Muholi. Photography
June 29, 2014, 7pm at
Schwules Museum*
Lützowstraße 73
10785 Berlin, Germany
Event with director and actress Mojisola Adebayo. Zanele Muholi is also scheduled to attend. Film excerpts from the thematic drama "I Stand Corrected" on hate rape will be shown, followed by a discussion with Mojisola Adebayo and Zanele Muholi.
Current and Upcoming Group Exhibitions Featuring Works by Zanele Muholi
Where We're At!: Other Voices on Gender at Bozar/Palais des Beaux Arts, Brussels – part of the 'summer of photography' June 17 – August 31; Contemporary Art/South Africa at Yale University Art Gallery May 9 – September 14; Precarious Imaging at Raw Material Company, Dakar – initially until 18 July, but closed early due to homophobic vandalism(!); Worldwide Africa: Fashioning Personhood at Minneapolis Institute of Arts runs through August 3; and Distance and Desire: Encounters with the African Archive at the Walther Collection in Ulm, Germany, runs through 2015.
Related Link
Zanele Muholi is represented by the Stevenson art gallery in South Africa