ArtGasm: Sadie Lune's Biological Clock
ArtGasm is a series of exhibits, live art making, performance art, and multi media art installations presented by Femina Potens Gallery, San Francisco, on a quarterly basis.
Sadie Lune's Biological Clock
Between April 19 and 30, 2011, Femina Potens will be  presenting a multi-media visual and performative art celebration of fertility, conception, birth, and motherhood. Exhibits include Sadie Lune's Biological Clock, an ongoing piece about time and fertility, which will peak in a queer fertility insemination ritual performance at the gallery, 934 Brannan Street, San Francisco, CA 94103 US. Collaborators for this piece include Annie Sprinkle and Beth Stephens.
Live Insemination Ritual Performance
Sadie Lune writes about her video call out for donations (or donors?) for her fertility art project that it is a "Shameless Plea for $ to fund my multi-media Life/Art project, Biological Clock all about human relationships with time and queer fertility, culminating in a live public ritual conception performance. – Please donate to the cause of working artists, living the dream, and the utopia of community produced queer babies. Even like, just $3. Three bucks for the unborn, pre-conceived child of weirdo. I mean, that 'aint nothin, right?"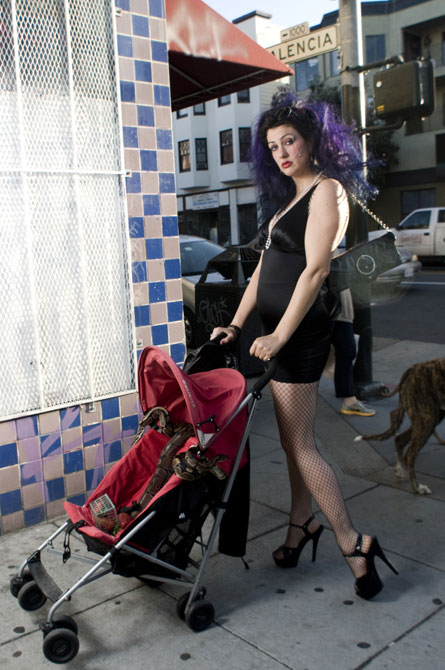 'Preparing for Motherhood', photographic performances by Sadie Lune. Photo from the series *Strolling. Photo: Mabel Jiminez

'Preparing for Motherhood' is a collaborative project between Sadie Lune as performer and a number of photographers from the US and Europe. The result is a collection of photos of various photographic performances inspired by actions women do/are expected to do to get prepare for pregnancy and parenting of young children. See more photos at Sadie Lune's website.
Related Links
Annie Sprinke and Beth Stephens
Femina Potens Gallery