'California Dreaming' By Stefanie Schneider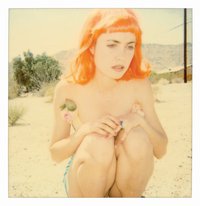 ROLLO Contemporary Art in London is delighted to announce details of the forthcoming solo exhibition of works by German photographer, Stefanie Schneider at ROLLO Contemporary Art from 6th July – 2nd September 2011.
'California Dreaming' 
by Stefanie Schneider
ROLLO Contemporary Art
51 Cleveland Street
London, W1T 4JH
'California Dreaming'
The press release reads: "Taking the American West as her inspiration, Schneider's alluring female characters are placed within the vast, sun drenched landscapes of California. Often in wigs and colourful dress Schneider's images evoke ideas of masquera…de and play, however the intense gazes of Schneider's female characters undermine their playful edge suggesting an unnerving or tragic quality beneath the surface of these glossy women. Together her photographs evoke love, pain, loneliness, alienation and re-discovery and collectively can be seen to suggest a social commentary on America; pointing to the cracks beneath the surface of the glitz and glamour of Western American and the 'American Dream'."
About Stefanie Schneider
Visual artist and queer woman Stefanie Schneider was born in Germany in 1968. She received her MFA in Communication Design at the Folkwang Schule Essen, Germany. Currently she divides her time between her two studios in Berlin and Los Angles.
Her work has been shown at the Museum for Photography, Braunschweig, Museum für Kommunikation, Berlin, the Institut für Neue Medien, Frankfurt, the Nassauischer Kunstverein, Wiesbaden, Kunstverein Bielefeld, Museum für Moderne Kunst Passau, Les Rencontres d'Arles, Foto -Triennale Esslingen.
Forthcoming exhibitions include the DZ Bank Collection, Kunstmuseum Cottbus, and Deichtorhallen Hamburg, Kestner Gesellschaft, Hannover. Schneider's works are represented in the public collections as well as being represented in prestigious private collections internationally.
Press photo (above): 'Radha Mind Screen' by Stefanie Schneider, 1999, Analog C-Print, Hand printed by the artist on Aluminum with Matte UV Protection, 128 x 125 cm.