My Vision
My dream is to create a strong platform for lesbian art – a virtual space for artists, curators, gallerists, publishers and art lovers to mingle. I believe that amazing things will happen, when we, lesbians, out artists, gay women, queer women and feminist artists start sharing our creative visions, our love of art and enthusiasm about making art and feminist culture.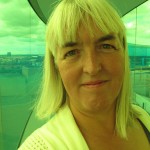 I launched Feminine Moments in 2003, because I couldn't find a single website, which promoted contemporary art by lesbian and queer women artists, and made the international community of out women artists visible. I find the many different creative projects explored by lesbian and queer artists around the world very inspiring for my personal life as a Danish lesbian and a fine art photographer.
Read also this post:
Birthe Havmoeller – The Story About Feminine Moments
Join Feminine Moments
I see myself as a facilitator rather than a curator and this art blog is an open queer/ lesbian feminist platform. It is open to anyone, who would like to join. Feel free to submit your queer art post (i.e. an artist statement & some illustrations), your YouTube video or website.
Feminine Moments at Facebook
Join the group at Facebook. Chat with artists and art lovers, share you links and queer art works or just sit back, relax and enjoy the queer/lesbian art links, which I'll post every 2-3 days.
Love & kisses
/Birthe