Something About Harry
Text: Liz Ashburn, Sydney, Australia
Fiendish Man Woman
Dominique Hindmarsh and Susannah Thorne are two artists, who work collaboratively under the title of Mills and Morte, which evokes their individual interests in issues of love and death. They have chosen to focus this installation Something about 'Harry: Secrets and Sins' on the life of Eugenia Fallini. As Harry Crawford, was convicted and sentenced to life imprisonment for the murder of his wife Annie Birkett in 1920 three years after her burnt body had been discovered in Lane Cove. Despite declaring that he was a "respectably married man", the truth about Harry was revealed, when he was physically examined and found to be a woman. Fallini had earlier given birth to a daughter Josephine and whether to avoid the stigma of an illegitimate birth or simply to earn more money as a man she had chosen to live as a man.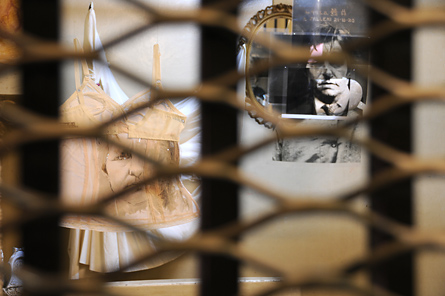 Closeup of the installation 'Something about Harry: Secrets and Sins' by Mills & Morte, 2010.
Fallini's desire to be considered male confounded the strong need that human societies feel to distinguish between male and female. Many women have chosen to dress as men such as Joan of Arc, Ann Bonny and Mary Read who were seventeenth century pirates, and soldiers such as Hannah Snell and Ann Mills. Cross-dressing has been part of the theatre for centuries and is usually for comic effect. However, in order to maintain gender distinctions within society, norms have been set, which have even been maintained by laws, defining what kind of clothing is appropriate to each gender. By not matching their "assigned sex" based on their physical or genetic characteristics, individuals who cross dress have been seen as manifesting a form of transgressive behaviour, which can disturb the "natural" order.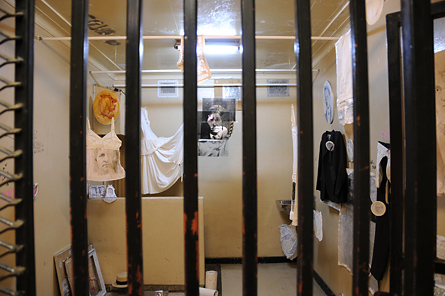 Installation view of 'Something about Harry: Secrets and Sins' by Mills & Morte, 2010.
While the death of Annie Birkett appeared to be the result of a brutal attack the newspapers of the day focussed on the unconventional aspects of Fallini's life, calling her a "fiendish man woman, murderess." She was labelled a "sex fraud" for wearing male clothing and living her life as a man as she had successfully passed as a sailor and pub worker. Eugenia was also regarded as a pervert, as she successfully courted and married two women. Harry wore male attire for the first day of her trail, but then dressed as a woman. While she pleaded not guilty at her trial, she was sensationalised and presented as an immoral monster, and when released after eleven years in jail was required to continue wearing female clothing as a condition of parole.
Even today transgender performance in everyday life has a promise of exploding cultural expectations. By installing their mixed media works at the Hyde Park Barracks Museum [Sydney, Australia, 2010] Harry's life is again placed under surveillance in a cell.  Through photographs her male and female personas regard images of her early life in Florence and her later incarceration at Long Bay. Remnants of intimate clothing evoke erotic and amorous moments alongside unsmiling male portraits of Harry. There is no attempt by the artists to judge Eugenia, but rather they issue an invitation to viewers to enter the now remote world of the 1920's through the choices made by one woman.
About The Author
Liz Ashburn is an artist, academic and writer based in Sydney Australia and has been writing about lesbian art since the mid 1990's. Among her publications is the book 'Lesbian Art: An Encounter with Power' (Craftsman House, 1996).
---
Tagged Artists in This Post:
---