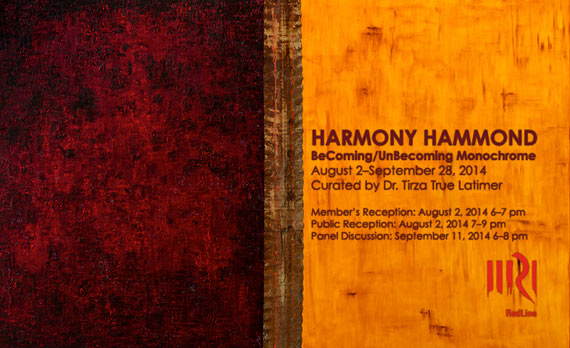 Harmony Hammond Becoming and Unbecoming Monocrome, August 2 – September 28, 2014, at RedLine. Curated by Tirza True Latimer.
Opening: August 2, 2014, 7-9 pm
Panel discussion: September 11, 2014 4-6 pm
Dear Friends,
If perchance you will be in Denver, please stop by RedLine to see this exhibition of my work that pairs my recent monochrome paintings with "weave" paintings from the mid-70′s. A 48 page color catalog with essay by the exhibition's curator, Tirza True Latimer, is available for purchase. RedLine, 2350 Arapahoe St. Denver, CO 80205. USA.
I hope you are having a wonderful summer,
Harmony Hammond