1st Annual QUEER'ists Art Exhibition – Birmingham 2011
Cross posted at www.queerists.com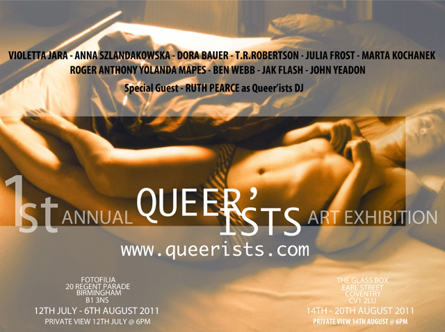 Queer'ists poster by Marta Kochanek 2011
From the Founder:
"Fear and consciousness of homophobia motivated me to create platform open to emerging as well as established LGBT artists to share life experiences as well as art. Art in this case was to create a solid bridge between artists around the world and myself".
10 QUEER Artists – 2 Shows!
1st Annual QUEER'ists Art Exhibition – Birmingham 2011
INTERNATIONAL SHOW!
UK – US – Poland
You are invited to be part of an awesome show that will take place in Birmingham/UK. It is going to be a huge step forward in the field of Queer Art so come over and be part of it!
The Queerists Project was exhibited in London and Coventry already. Now – QUEER artists were encouraged to exhibit their original works along with The QUEER'ists Project. Please join us and proudly celebrate with us!!!
FOTOFILIA
20 Regent Parade
Birmingham
B1 3NS, UK
12th July – 6th August 2011
Private View: 12th July 2011 @ 6pm
Artists Included:

Marta Kochanek, Violetta Jara, Anna Szlandakowska, T.R.Robertson, Ben Webb, Dora Bauer, Roger Anthony Yolanda Mapes, Jak Flash, Julia Frost and John Yeadon.

Special Guest – QUEER'ists DJ: Ruth Pearce
Related Links
Queer'ists
Join the 'Queerists' page at Facebook
---
Tagged Artists in This Post:
---