Garbo, The Icon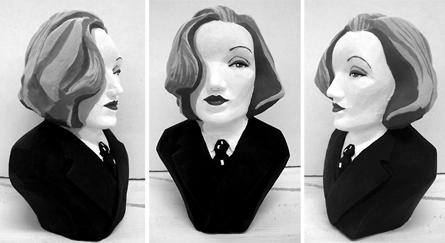 'Garbotje' sculptures by Chantz Perkins, 2010. They are available from the artist or at the Treehouse A HANDMADE HOLIDAY show.
A special group exhibition event at the ABC Treehouse in Amsterdam, Holland will be celebrating the winter holidays and the return of the popularity of handmade gift-giving. The exhibition is titled 'A Handmade Holiday'. Among the artists presented at this exhibition is queer sculptor Chantz Perkins.
Born in Los Angeles, Chantz Perkins is a international artist living and working in Amsterdam. Chantz on her art:
"After 15 years working as a sculptor and 15 as a painter, I have combined these two passions to create a new line of limited edition, handpainted sculptures. This process I adapted to create, "Garbo, the Icon", commissioned by the Garbo for Women club in Amsterdam, I created a life size 3D black & white sculpture of Greta Garbo, made from ceramic and hand painted".
A limited editions of masks of the portrait (ceramic and also from paper) and small models of the sculpture ("Garbotjes") will be on sale at the Treehouse Gallery's Handmade Holiday exhibition on December 14 – 19, 2010. As well as these, small bronzes of Chantz' interpretations of female themed mythological stories will be also be on view.
A HANDMADE HOLIDAY
Dec 14, 2010 to Dec 19, 2010
ABC Treehouse
Voetboogstraat 11
1012 XK Amsterdam
Tuesday- Friday (14-17 December): 1pm-9pm
Saturday–Sunday (18-19 December): 1pm-6pm
Treehouse supported by: American Book Center, Amsterdam. For more info about the exhibition see: www.treehouse.abc.nl
---
Tagged Artists in This Post:
---