Jerusalem by Elisabeth Ohlson Wallin
'Jerusalem' by Elisabeth Ohlson Wallin at Södra Teatern January 2011, Stockholm, Sweden.
The Jerusalem exhibition site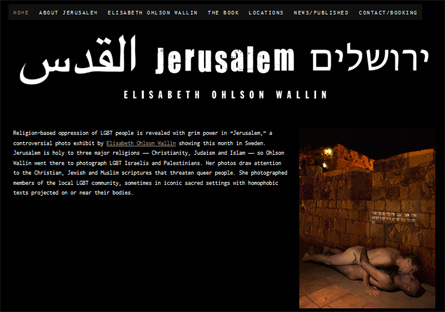 The exhibition is on tour in Sweden 2010-2011.
Jerusalem is a holy place to three major religions: Christianity, Judaism, and Islam. Elisabeth Ohlson Wallin went there to photograph LGBT Israelis and Palestinians. Her photos draw attention to the Christian, Jewish and Muslim scriptures that threaten queer people. She photographed members of the local LGBT community, sometimes in iconic sacred settings with homophobic texts projected on or near their bodies. Elisabeth's photos – featuring homosexual love versus the homophobic mindset of the religions, are so controversial that when they are presented in Sweden the exhibitions spaces need extra security staff…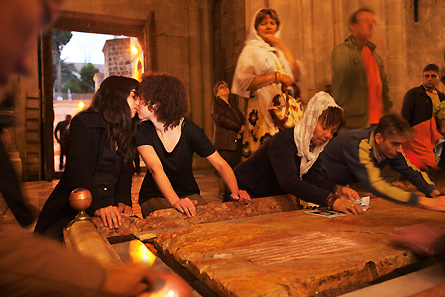 'The Holy Kiss', photo from 'Jerusalem' by Elisabeth Ohlson Wallin
The Jerusalem book
'Jerusalem' the Exhibition catalogue (108 pages) is made in four languages. Arab, Hebrew, English and Swedish. Words from the artist and the images from the exhibition.You can order the book by sending an email to Elisabeth: elisabeth@ohlson.se
About Elisabeth Ohlson Wallin
Stockholm based photographer, visual artist and lesbian activist Elisabeth Ohlson Wallin (born 1961) works with themes such as religion and sexuality. Her works present sexual minorities such as homosexuals, transsexuals and transvestites. With the exhibition 'Ecce Homo' in 1998, which made her famous in Scandinavia (and Europe?), she wanted to remind people that Jeusus worked and helped the outcasts of society. Using people from the LGBT community as models for her staged photos are important to her. 'Ecce Homo' earned her the honorary title of 'Årets Homo' ~homosexual of the year (1998) in Sweden and this year she was given the title once more at the QX Gay-Gala in Stockholm. This time for the exhibition 'Jerusalem'.
Related links
Article about the exhibition 'Religious threats to LGBT people exposed in Jerusalem photos' at JESUS IN LOVE BLOG
---
Tagged Artists in This Post:
---