Studio Vilgefortis – Custom Made Beards For Women
If you meet more bearded women in Finland than usual this evening it is because,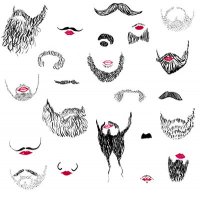 Artist Heidi Lunabba is providing a beard for women and children today, July 1, 2011.
Heidi's beard studio is open today is open 15-19:00 at Åbo Klassiska gymnasium, Eskilsgata 4, Åbo (~Turku), Finland. She invites you to come and get you own custom made beard in 'Studio Vilgefortis'.
'Studio Vilgefortis' is a beard Studio for Ladies and other persons who don't have a beard. Join the group 'Studio Vilgefortis' at Facebook to get information about when and where the studio is open.
About Heidi Lunabba
Finish artist and queer woman Heidi Lunabba (b. 1977) Works with social and community art projects, often inviting people to participate. Trough installations, photography and video she explores questions on identity, gender and communication, in public and private spaces. She has an MA in Fine Arts from the Finnish Academy of Fine Arts and is based in Helsinki, Finland.
Illustration above: Studio Vilgefortis' Logo at Facebook