Pandora's Book by Jan Morley
British artist Jan Morley will be presenting her artist book Pandora's Book (handmade paper, 23 X 33 X 2 cm) at the GFEST 2011 Visual Arts Exhibition, which is coming up soon in London.
GFEST 2011 Visual Arts Exhibition
Dreamspace Gallery,
1-3 Dufferin Street,
London, EC1Y 8NA, UK
(press buzzer to enter)
Mon 7 Nov – Sat 19 Nov, 2011, 9am to 5:30pm, Sat: 10am to 5pm (Sunday Closed) ENTRY FREE
Mon 7 Nov: Private View: 6 to 8:30pm (by invitation)
Jan Morley explains: "Pandora's Book is a book made from handmade paper. The cover has had fishnet stockings pressed into the paper which is sewn together and tied with a suspender belt fastener. Inside are 5 pieces of paper each with a quote from a feminist writer. Each piece of paper is illustrated to match the quote. This book was actually made 30 years ago whilst I was at college and before I knew I was a lesbian. What I find fascinating is that a lot of the quotes still hold true today and as a young feminist I agreed wholeheartedly with."
In Pandora's Book Jan Morley quotes among others Marge Piercy and Marilyn French:
"there is no difference
between being raped
and being run over by a truck
except that afterward
men ask if you enjoyed it" – Marge Piercy
"and there are so much easier ways to destroy a woman
you don't have to rape or kill her you don't even have to beat her
you can just marry her" – Marilyn French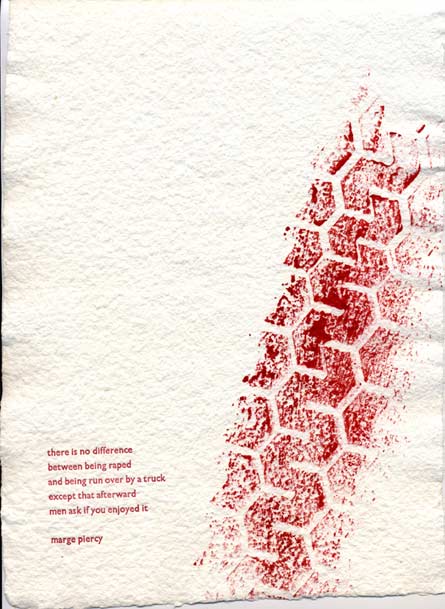 Rape, quote by Marge Piercy from Pandora's Book by Jan Morley, 1982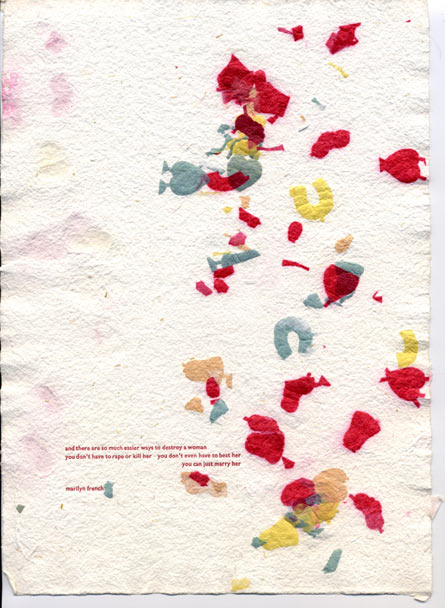 Marry her, a quote by Marilyn French from Pandora's Book by Jan Morley, 1982
About Jan Morley
Today Jan Morley works as a visual artist and a designer for the tableware industry. She runs Liberty Bodies, an online gay and lesbian gift shop, where she sells both her own designs and works of art by other artists. She tells me: "I see Liberty Bodies as a vehicle for celebrating ourselves in our diversity; whether gay, lesbian, bisexual, transsexual, straight, fat, thin, whatever or whoever you are."
Jan Morley was also taking part queer art exhibition of GFEST 2010, where her morally corrupting 'Pussy Mug' was among the queer art works, which caused controversy and were covered-up by the managers of the exhibition space at the Hampstead Town Hall in order to make the queer art exhibition safe for small children and their parents.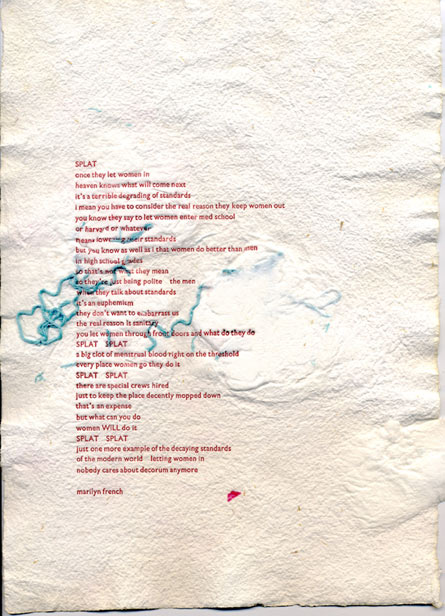 SPLAT, a quote by Marily French  from Pandora's Book by Jan Morley, 1982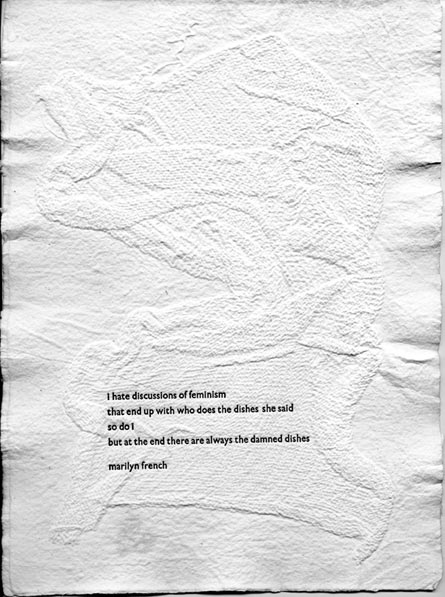 Dishes, a quote by Marily French from Pandora's Book by Jan Morley, 1982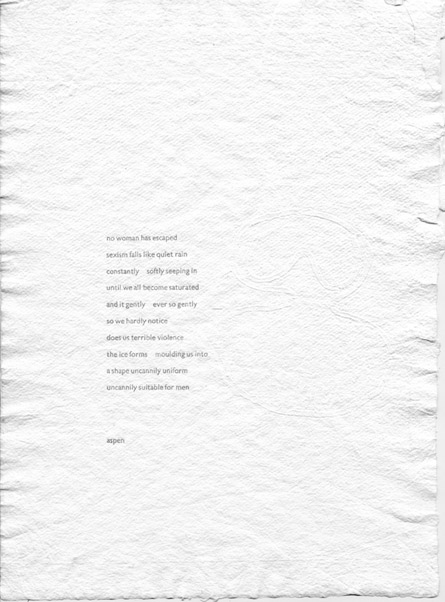 Sexism, a quote by Aspen from Pandora's Book by Jan Morley, 1982
Related Link
Liberty Bodies, Jan Morley's online shop
---
Tagged Artists in This Post:
---