Belle Ancell
Belle Ancell
Artist in TransgressionNow, curated Visual Art Exhibition, [of the Queer Arts Festival in Vancouver, Canada] Jul 24 – Aug 9 2013.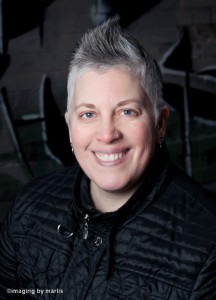 Belle Ancell was born and raised in the Kootenays and currently lives in the beautiful city of Vancouver, BC.
A self proclaimed 'late bloomer', she went back to school in 2010 when she was accepted into the Vancouver Institute of Media Arts Digital Photography Program at the young age of 47. Since graduation her primary focus has been on intimate portraiture, creating compelling images which reflect the visually unique qualities of her subjects.
Belle is absolutely committed to revealing true personalities through the photography medium and continually strives to push the boundaries of perceived beauty, gender, sexuality and relationship.
[Photo above by Marlis Funk, January 2013]