Canada Celebrates Queer Art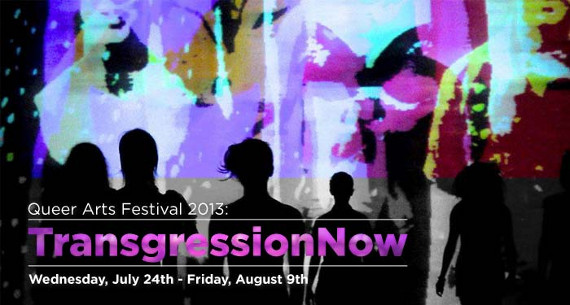 TransgressionNow – the 6th annual Queer Arts Festival in Vancouver Canada July 24 – August 9 2013. QAF is one of the most unique multidisciplinary festivals of its kind in Canada, featuring a curated visual art exhibition and three dynamic weeks of cutting-edge performances and inspiring workshops from all artistic disciplines, including music, dance, theatre, literature, visual and media arts.
Visual Arts
QAF tells: Our most far-reaching and exciting exhibition to date, this year's visual art exhibition, TransgressionNow, is being curated by Paul Wong and Glenn Alteen. Queer art and politics have always included notions of transgression, but in the media age these ideas have changed radically. What we once saw as disobedient or even sinful is now commonplace, when any manner of visual and digital material is on everyone's screen in seconds. But our digital age is also embedded in one of the most conservative social environments in many decades, creating interesting dichotomies and contradictions. TransgressionNow will feature 14 artists who still see transgression in Queer Culture. July 24 – Aug 9.
Queer Artists
The artists of this QAF queer arts exhibition are: 2Fik, Belle Ancell, Kathy Atkins, Joe Average, Thirza Cuthand, Zackary Drucker, Terry Haines, SD Holman, Claude Perreault, Taras Polataiko, Naufus Ramírez-Figueroa, Emilio Rojas, Vivek Shraya and Jonny Sopotiuk.
Pride in Art Community Art Show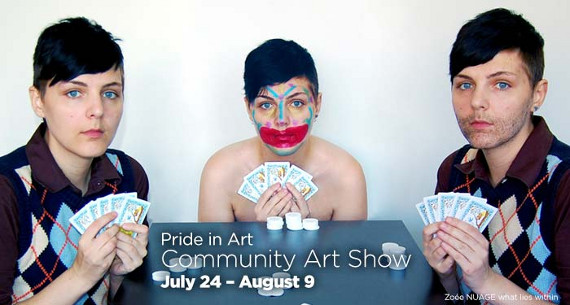 Pride in Art Community Art Show
Features queer art by local artists: Steven Audia, Jen Crothers, Kricket Crowe, Ben Goglin, Dave Jackson, Laiwan, Susan MacRae, Misha Martinot, Zoée Nuage, Laura Smith and Alex Winter.