Gay Kids, XXL women, Vikings, Lesbian, Cowboys and Babooskas by Lill-Ann Chepstow-Lusty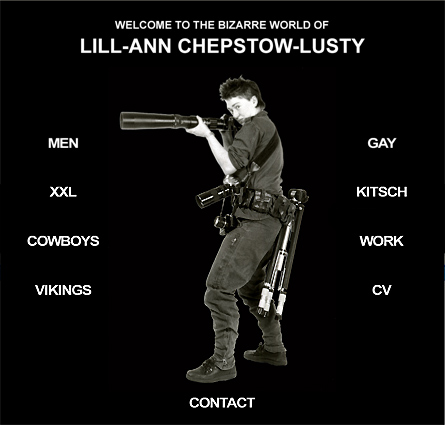 Lill-Ann Chepstow-Lusty, http://www.lusty.no/
t.A.K.e 2 lesbians in school uniforms and you are about to move into queer photographer Lill-Ann Chepstow-Lusty's visual world. Lill-Ann is a humorous fine art photographer living in Norway. Her models are characters such as XXL women, vikings, lesbian, Norwegian cowboys or Bulgarian babooskas. In 2005 she made the "t.A.K.e 2" [lesbians] show, which features photos of real live lesbians dressed in cute miniskirts.
Lill-Ann was born in England, has studied at Eastbourne College of Art & design in Sussex and is now working at The Museum of Cultural History at The University of Oslo. She has worked with photo projects since the middle of the 80'ies and has published five books: "Kroppens sug, hjertets savn", "Pål LaRoid – med dame i siktet", "Norge – helt Texas", "Absolutt Viking" and "Gay Kids". Her latest book "Gay Kids – Kule barn som også finnes" (ISBN: 978-82-793-5262-4, published 2008) is a non-fiction book, which she has made together with Bera Ulstein Moseng and Rolf Martin Angeltved.
Gay Kids
Lill-Ann was asking herself and her friends, if you can tell the future of a child? Will a boy, who dressed up in a skirt as a child, be gay man? Will a tomboy be lesbian, when she grows up. The "Gay Kids", which orginally was intented to be an art project, is an attempt to educate children about homosexual love, and at the launch of book the front of The Museum of Cultural History at the University of Oslo was covered with a long open air collage showing more than 100 childhood photos of gay people. The pioneering Norwegian gay activist Kim Friele is one of the many gay people in Oslo, who has contributed to the book and the photo montage.
Spotlight – Eight Women Photographers From The Preus Museum Collection
The Preus Museum in Horten, Norway, is showing a series of Lill-Ann's photos of Bulgarian babooskas at the moment. Her photos are a part of the show "Spotlight – Eight Women Photographers from the Preus Museum Collection", which runs until October 25, 2009. The museum tells that the history of photography has been written with an emphasis primarily on male photographers, but since the 19th century photography has been regarded as an important profession for women too, and women photographers have made major contributions to the history of the discipline. The show turns a spotlight on eight women photographers, who figure in the Preus Museum collection, representing a total time span of 140 years. Lill-Ann Chepstow-Lusty is the only contemporary artist of the show. The other (late) photographers are Julia Margaret Cameron, Ellisif Wessel, Bolette Berg, Madame d'Ora, Lotte Jacobi, Elisabeth Meyer and lesbian photographer Ruth Bernhard.
Related Links
Lill-Ann Chepstow-Lusty's online portfolio
Gay kids : kule barn som også finnes
By Rolf Martin Angeltvedt, Bera Ulstein Moseng and photographer Lill-Ann Chepstow-Lusty
ISBN: 978-82-793-5262-4
Forlag: Abstrakt
Read more about 'Gay Kids' on Wikipedia