Henriette Hellstern-Kjøller on Her Paintings
I have been corresponding with Danish artist Henriette Hellstern Kjøller about her life as a lesbian artist and her art latest projects. This is what she wrote.
Henriette: To use my sexuality in my artistic work is the most natural thing for me as I my life as a lesbian is a fundamental part of me. The feeling and the fact that we are second class citizens as several laws discriminate us in spite of the fact that we pay just as much tax as heterosexual people, give me energy to make lot of art.
It is also important for me as an out and proud lesbian to make a difference for other gay people and therefore I am totally out about my sexual preference and I am happy to make interviews, answer questionnaires and take part in homosexual panel debates.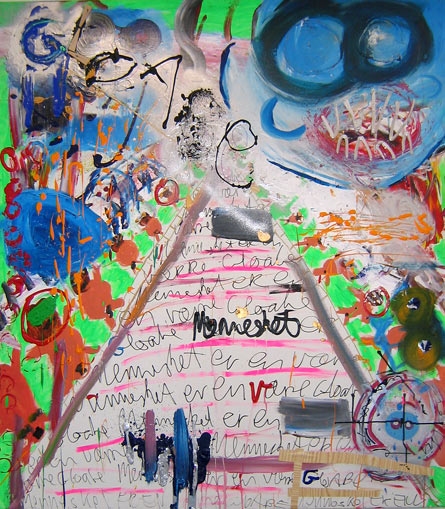 Gloabe/ Staring Monkey, copyright Henriette Hellstern-Kjøller, 2004
Staring Monkey (original title in Danish: "Gloabe") from 2004 is a painting with a childlike drawing of a road disappearing in the horizon. It is a comment on man's tendency to look/stare at each other. Why do we stare? What is so interesting about someone who looks different, do I look different at all? Or do we just stare at nothing? This is some of the things that I wanted to comment.
'Arm 1:3" is a painting from a series that I worked on this spring/ summer. I realized that I intuitively place people or fragments of figures in all my works of art. I therefore chose to reduce it to body parts. I cannot let go of the ever present people, their opinions, proclamations and the noise. I am sensitive. A gesture with an arm is enough to affect me. At the bottom of the painting there is a spot with eyes, staring eyes.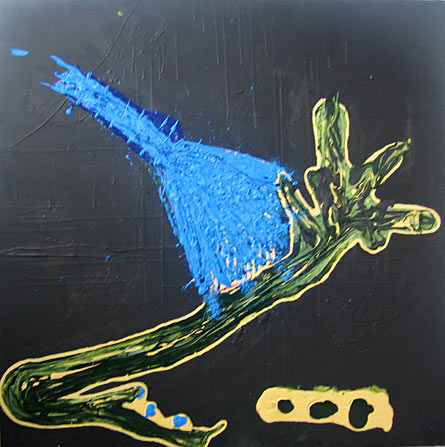 Arm 1:3, copyright Henriette Hellstern-Kjøller, 2008
I suppose that all works of art are autobiographical in some way or other even for an expressionist painter. I am working with homosexuality as the general concept of my work. I choose i.e. to exclude male figures from my works and only paint women, as I find men uninteresting. It is a way to focus on women and lesbianism, which is important for the future equality in the society (my secret agenda).
I am lesbian 24 hours a day and all that I am making is somewhat lesbian. It is probably somewhat difficult to see this in my most expressive works, but the feeling of standing outside of society, outside of my community, and of being the "exception" from the norm, at the same time as I adore my beautiful wife and love my small rainbow family, it has a big effect on me. The lesbian touch is of course more visual in my art videos, as the word is mans chosen means of communication. The videos "The Chearleader", "Skabet", "Hvis jeg havde en million", "Trala la la laj", "Træt af dig" and my latest video "GayGirl" have very confronting themes, but when I hide it with small tunes and a kitsch universe it becomes more digestible to a bigger audience. What makes most sense for me is to make art using a media by which I can reach more people.
View Henriette's videos on YouTube
See Henriette's paintings