Cape Town: Isilumo Siyaluma, a Queer Solo Show by Zanele Muholi
Press Release from blank projects, Cape Town, South Africa
New exhibition opening at blank projects in November:
Isilumo siyaluma (2006-2011) by Zanele Muholi
Opening: Thursday 03 November 2011 at 18:00
Exhibition closes 26 November
[blank projects is an independent, artist-run exhibition space founded in Cape Town by Jonathan Garnham in 2005].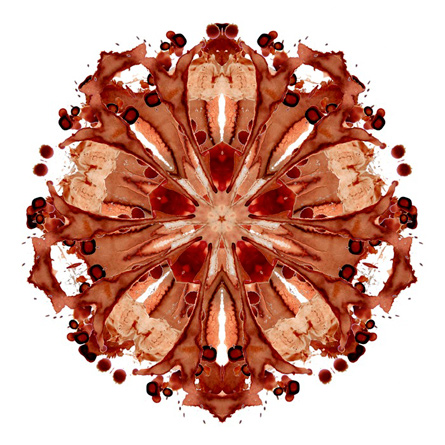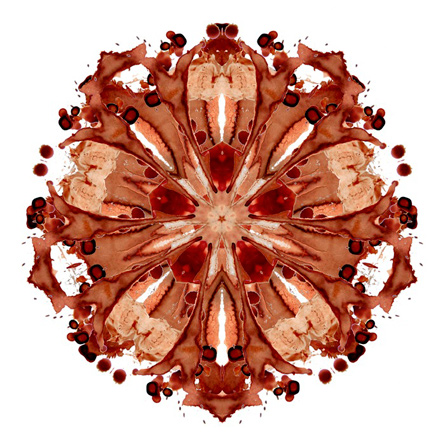 Zanele Muholi. Ummeli, 2011. Digital print on cotton rag of a digital collage of Mensrual blood stains. (Image courtesy of the artist and Stevenson Gallery).
PROJECT TITLE: Isilumo siyaluma (2006 – 2011)
MEDIUM: Activist/artist menstrual blood
Isilumo siyaluma is a Zulu expression that can be loosely translated as "period pains/ periods pain". Additionally, there is an added meaning in the translation that there is something secretive in and about this blood/"period in time."
At one level, my project deals with my own menstrual blood, with that secretive, feminine time of the month that has been reduced within Western patriarchal culture as dirty.
On a deeper level then, my menstrual blood is used as a vehicle and medium to begin to express and bridge the pain and loss I feel as I hear and become witness to the pain of 'curative rapes' that many of the girls and women in my black lesbian community bleed from their vaginas and their minds.
Between March – May 2011, three (3) young black lesbians under the age of 25 were brutally murdered in various townships. Nokuthula Radebe (20), Katlehong, whose body was discovered on Monday 28th March late afternoon around 5pm by kids playing in an abandoned building in Everest Thokoza, Ekurhuleni. According to FEW website, her friend Simangele who saw the body before it was taken by police say that Nokuthula's pants were pulled down, but was still wearing her underwear. Her faced was covered by a plastic and had been strangled with one of her shoelaces.
Noxolo Nogwaza (24), Tsakane, Johannesburg. Her body was found lying in an alley in Kwa-Thema at about 9am on Sunday, April 24 2011. Her head was completely deformed, her eyes out of the sockets, her brain spilt, teeth scattered all around and face crashed beyond recognition. Witnesses say that an empty beer bottle and a used condom were stacked up her genitals. Parts of the rest of her body had been stabbed with glass. A large pavement brick that is believed to have been used to crash her head was found by her side.
Nqobile Khumalo (23), KwaMashu F-section, Durban, went missing on May 4 and her body was found in a shallow grave near her parents' home two days later.
As we continue to live and survive in troubled times as black lesbians in South Africa and within the continent, where rampant hate crimes and brutal killings of same gender loving women is rife. This ongoing project is an activist/artist's radical response to that violence.
The passage in which we bleed
The passage where we are/ were born
The passage through which we become (wo)men?
The erotic passage meant to be aroused, is raped
The passage we love is hated and called names
The sacred passage is ever persecuted
I continue to bleed each time I read about rampant curative rapes in my 'democratic' South Africa.
I bleed every time queer bodies are violated and refused citizenship due gender expression and sexual orientation within the African continent.
I constantly bleed when I hear about brutal murders of black lesbians in our townships and surrounding areas.
I'm scarred and scared as I don't know whose body will be next to be buried.
I bleed because our human rights are ripped.
I cry and bleed as mothers, lovers, friends, relatives lose their beloved ones, let alone the children that become orphans because of trans/queerphobic violence.
We bleed, our life cycles invaded, we bleed against the will of our bodies and beings.
Each patterned piece in this series represents a 'curative rape' survivor or a victim of hate crime, the physical and spiritual blood that is shed from our bodies.
– Zanele Muholi
Panel DebateAbout Zanele Muholi
Activist/artist Zanele Muholi (b. 1972 Umlazi, Durban, lives and works in Cape Town & Johannesburg) completed an Advanced Photography course at the Market Photo Workshop in Newtown in 2004. She has exhibited extensively locally and internationally. Her numerous accolades include the Casa Africa award for best female photographer (Les Rencontres de Bamako biennial of African photography), the Fanny Ann Eddy accolade by the International Resource Network in Africa (IRN-Africa) and an LGBTI Art & Culture Award. She is represented by Stevenson Gallery, [South Africa].
Related Link
Zanele Muholi's online portfolio
Post at Feminine Moments with a video artist talk By Zanele Muholi: 'Zanele Muholi: Isilumo siyaluma – Periods of Pain'
Article about Zanele's latest exhibition: Zanele Muholi – Solo Show in Las Palmas