KIMURA*LEMOINE – 10th Solo Exhibition
Press release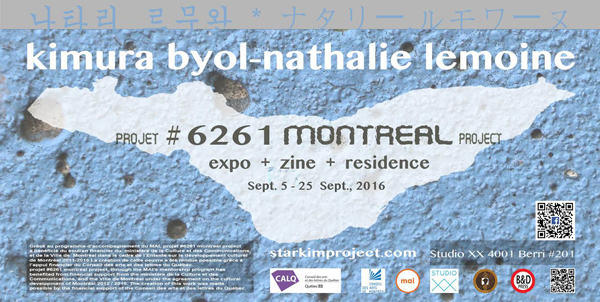 Kimura Byol-Nathalie Lemoine:
Let's celebrate my 10 years in Montreal and my 10th solo Show!
* exhibition/expo : September 5-25 septembre, 2016
* opening/vernissage + Zine launching : 7 septembre – 5-9pm
* artist residency/résidence d'artiste : Aug. 25 – Oct. 9th, 2016
The projet 6261 Montréal project is a géographical and symbolic journey that give a réflexion on migrations of inhabitant movements of different origins ibased in Montreal.
What is a number ? To what, to whom are we giving a number ? A house, a street, an avenue, a cat, a prisoner, a refugee, an oprhan, an adoptable child.
My adoption number is 6261. In Montreal, there are long streets, avenues. How many inhabitants live at number 6261?
The outcome of my research is introduce to the public with an exhibit (Studio XX), a limited (100 ex.) publication of a Zine (B & D Press) and a non linear and interactive film iwith Korsakow (Studio XX)
The projet # 6261 Montréal Project, through the MAI's mentorship program, has benefited from financial support from the ministère de la Culture et des Communications, and the Ville de Montréal under the agreement on the cultural development of Montréal 2012 / 2015. The création of this work was made possible by the financial support of the Conseil des arts et des lettres du Québec.