Laura Lilja: Cargo Blue
Press Release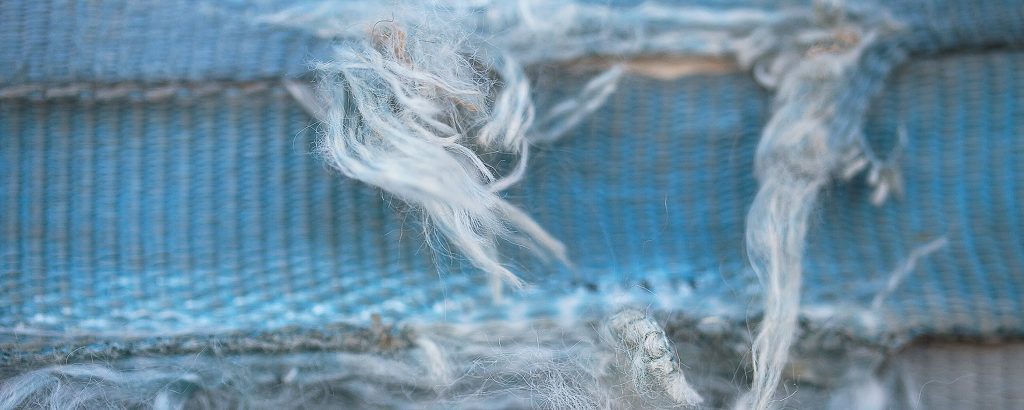 Laura Lilja
Cargo Blue
March 3–26, 2023
Galleria Sculptor: Studio
Eteläranta 12, Helsinki, Nyland, Finland
Welcome to the exhibition opening on Thursday 2 March at 5–7 pm!
In March, Laura Lilja will create a new work, Cargo Blue, to Galleria Sculptor's Studio. The work draws inspiration from the architecture of the space as well as the qualities of decommissioned cargo straps, viewing at themes such as overconsumption, environmental burden, the sea, and mental landscapes. Cargo Blue is like a ready-made colour study; a blue painting, which is not done with acrylic or oil paints, but by tightening dozens of cargo straps around the wall. Used straps create variations of colour from dark to light. Deterioration of cloth, unraveling of thread and flaws act like brush marks, making the surface interesting and unique.
The decommissioned cargo straps have been collected from DB Schenker's offices in Pori, between October 2021 – January 2023.
The exhibition is supported by the Arts Promotion Center Finland and the Finnish Cultural Foundation's Satakunta Regional Fund.
About the Artist
Laura Lilja (b. 1975) is a visual artist who combines different materials, techniques and themes in her works. Lately, she has been interested in more ecological ways of making art using recycled, borrowed and natural materials. Lilja lives and works in Reposaari, an island off Pori, at the edge of the Bothnian Sea. Lilja received her MA from the PALLAS programme of the University of Art and Design Helsinki in 2004. Her works are included in the collections of, e.g., the Finnish State Art Commission, Kuntsi Museum of Modern Art, Lönnström Museum and Pori Art Museum.