London LGBTQI cross-arts festival GFEST
Press release by GFEST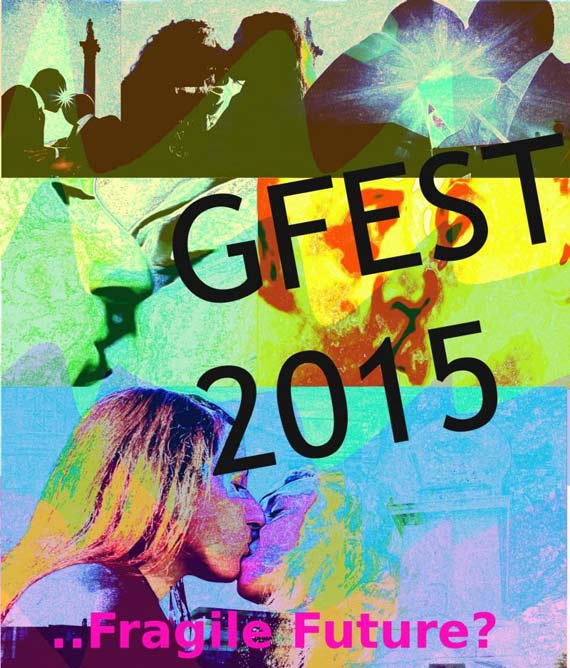 GFEST 2015 poster
GFEST 2015
GFEST – Gaywise FESTival, recognised as London LGBTQI (Lesbian, Gay, Bisexual, Transgender, Queer and Intersex) cross-arts annual event in November has announced 2015 dates: Monday the 9th to Friday the 20 November.
GFEST 2015 programme advisors names are also announced on the festival's website: http://www.gaywisefestival.org.uk/
GFEST 2015 programme advisors include Anna McNay, Gulliver Ralston, Michael Petry, Simon Tarrant, Subodh Rathod and Lois Keidan and the artistic director is Niranjan Kamatkar.
GFEST 2015 theme … Fragile Future?
The GFEST 2015 theme is '(Complacent Present) …Fragile Future?' GFEST 2015 visual arts exhibition will explore Asian identities under the theme: Asian Future. The films are planned under the theme 'Cinema Futura', while the performance events will be falling under 'Tonal Future'.
The festival event in London's LGBT calendar consists of visual arts exhibition, film screenings, performances and talks and debate focusing on the works of young and established artists and practitioners. The festival is organised by arts charity Wise Thoughts and is now in its 8th year.
Catherine West, the MP for Hornsey & Wood Green where Wise Thoughts is based, said in her message of support, "I am delighted to offer my support to this year's GFEST, celebrating some of the brightest and best talent in the LGBTQI community here and abroad. I am looking forward to coming along to one of the events in my constituency and send my best wishes to everyone taking part this year and to Wise Thoughts for organising such a fantastic diverse programme"
GFEST artistic director Niranjan Kamatkar said, "we are very pleased to receive the support of our local MP and we continue to profile LGBT art works due to the support of eminent people, artists and audiences. Irrespective of significant funding challenges, we are confident that we can deliver the full festival programme this year."