Must-See Queer Feminist Art Exhibitions in Europe Summer 2017
Anna McNay (UK) and I (editor of Feminine Moments) have created Feminine Moments' list of Must-See Queer Feminist Exhibitions in Europe Summer 2017. The exhibitions we have selected for this list feature works by Lesbian, Bisexual and Queer Women Artists, as well as by Feminist Artists from around the world. Happy holidays and pride celebrations to all of you travelling in Europe this summer!
Must-See Exhibitions:
Queer British Art 1861–1967
Dates: until October 1, 2017
Venue: Tate Modern, London, UK
Queer British Art presents works from 1861–1967 relating to lesbian, gay, bisexual, trans and queer (LGBTQ) identities. The show marks the 50th anniversary of the partial decriminalisation of male homosexuality in England and is a historically informative and aesthetically compelling exploration of the multifaceted interpretations of 'queerness' in the century leading up to this milestone.
Curator: Clare Barlow
Link: http://www.tate.org.uk/whats-on/tate-britain/exhibition/queer-british-art-1861-1967
NUESTRO DESEO ES UNA REVOLUCIÓN
– Imágenes de la diversidad sexual en el Estado español (1977-2017)
Dates: June 31 – October 1, 2017
Venue: CentroCentro, Madrid, Spain
In Spain, the first gay and lesbian rights demonstrations took place in Barcelona in 1977, not long after the dictatorship had ended. The exhibition Our Desire is a Revolution. Images of sexual diversity in Spain (1977 – 2017) reviews LGBT audiovisual production from that moment onward. Diverse gay, lesbian and queer artistic practices have been inspired by the languages of the avant-garde movement or by the iconography of urban subcultures. The works presented challenge mainstream representations of the body and question how public and private spheres interact. It features much experimental and openly political work.Our Desire is a Revolution is a big group exhibition featuring works by artists, filmmakers and performers including: Cabello/Carceller, Pepe Espaliú, Cecilia Barriga, Juan Hidalgo, Virginia Villaplana Ruiz, Pedro Almodóvar, Ocaña, LSD (Fefa Vila) and others.
Link: http://www.centrocentro.org/centro/exposicion_ficha/233
Julie Mehretu: Palimpsest
Dates: May 19 – September 3, 2017
Venue: Fundação de Serralves, Museu de Arte Contemporânea (Serralves Museum), Porto, Portugal
Julie Mehretu's first solo presentation in Portugal, A Universal History of Everything and Nothing, spans 20 years of work, including Mumbo Jumbo (2008) and the monumental panel Mogamma (commissioned by Documenta 13 in 2013). Julie Mehretu's creative practice is based on both a rigorous and explosive exploration of drawing. The erasure of parts of a drawing is as important as the marks that remain and gives rise to a palimpsest of spaces built of visual and cultural memory.
Curators: Suzanne Cotter and Vicente Todoli
Link: https://www.serralves.pt/pt/actividades/julie-mehretu-uma-historia-universal-de-tudo-e-de-nada/
Tove Jansson
Dates: all summer
Venue: Helsinki Art Museum, HAM, Finland
The works of queer painter, author and illustrator Tove Jansson (1914–2001) are among the most cherished pieces in the Helsinki Art Museum (HAM) collection. HAM has dedicated some of its galleries to an exhibition of the artist's life and works.
Guided tours in Finnish: Tove Jansson in queer eyes at HAM
Dates: June 27 – 30, 2017 at 17:30
Helsinki Art Museum celebrates Helsinki Pride 2017 by arranging guided tours of the Tove Jansson exhibition. What are the stories behind the frescos she painted and how is the queer angle visible in her works?
Link: https://www.hamhelsinki.fi/en/exhibition/tove-jansson/
The World's First Moomin Museum
Dates: Opens on June 17, 2017
Venue: The Tampere Art Museum, Tampere, Finland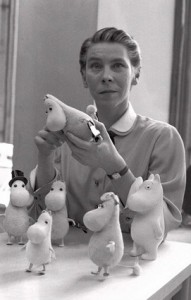 The Tampere Art Museum Moominvalley has moved to new premises in Tampere Hall and is re-opening as the world's first Moomin Museum. The museum will offer new ways of experiencing the world of the Moomins, although the exhibition will still be based on the original books and illustrations by Tove Jansson (1914–2001) and the three-dimensional tableaux by Tove Jansson's lifelong partner Tuulikki Pietilä (1917–2009), which belong to the Moominvalley collection of Tampere Art Museum. The exhibition will present about 300 drawings and paintings and 30 tableaux.
Links: http://www.tampere.fi/en/city-of-tampere/info/current-issues/2016/11/08112016_1.html
https://muumimuseo.fi/en/
Tove Jansson – Art, Love and Moomins
Dates: June 10 – September 3, 2017
Venue: Kunstforeningen Gl Strand, Copenhagen, Denmark
The exhibition TOVE JANSSON – KUNST, KÆRLIGHED & MUMITROLDE (Tove Jansson – Art, Love and Moomins) at GL STRAND presents Tove Jansson's diverse oeuvre. It includes her early surrealist paintings from the 1930s, modernist and experimental works from the 40s and 50s, and lyrical works from the 60s and 70s. It shows Tove Jansson's satirical anti-war illustrations and illustrations for comics and children's books, material that emphasises Tove Jansson's private life and, in particular, her extensive work with the Moomins, in drawings, figures and photographs.
Link: www.glstrand.dk
VENUS ENVY by Deborah Kelly
Dates: May 24 – September 3, 2017
Venue: Kvindemuseet, Aarhus, Denmark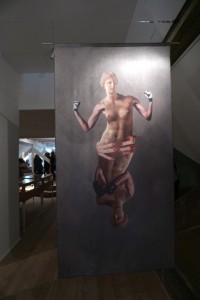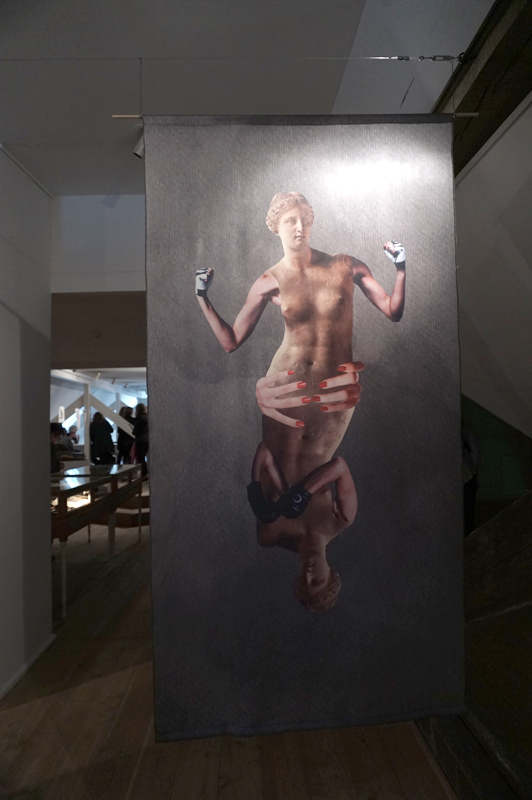 Deborah Kelly is a queer and feminist artist who questions gender, power and privilege. She reconsiders our understanding of visual imagery and our cultural heritage. In Venus Envy, she re-interprets the central figure of Western art: the female nude. The exhibition also features Deborah Kelly's stop motion animation film Lying Women (2016). Venus Envy is part of Aarhus 2017, the European Capital of Culture 2017's cultural programme.
Link: https://www.femininemoments.dk/blog/celebrating-the-opening-of-deborah-kellys-queer-and-feminist-exhibition-venus-envy/
http://kvindemuseet.dk/udstilling/venus-envy-deborah-kelly-aus/
Image: Exhibition view from Venus Envy by Deborah Kelly. Photo copyright Feminine Moments.
Nicola Tyson – A Tendency to Flock
Dates: June 23 – August 19, 2017
Venue: Sadie Coles HQ, London, UK
Nicola Tyson's 2017 exhibition at Sadie Coles HQ in London features a group of seven new paintings, embracing a range of subjects and scales. Nicola Tyson, who has been based in New York since 1989, is primarily known as a painter but has also worked with photography, film, performance and the written word. Her work has continued to gain recognition for its reimagining of the female figure in relation to concepts of identity and the social gaze. She sets out to describe the female body as experienced rather than merely observed.
In autumn 2017, Nicola Tyson will present a solo exhibition of works on paper, Beyond a Trace, at The Drawing Room, London.
Link: http://www.sadiecoles.com/exhibitions-press-release/nicola-tyson-press-release-2017
ZANELE MUHOLI
Dates: July 8 – October 15, 2017
Venue: Stedelijk Museum Amsterdam, Holland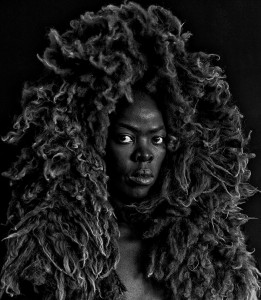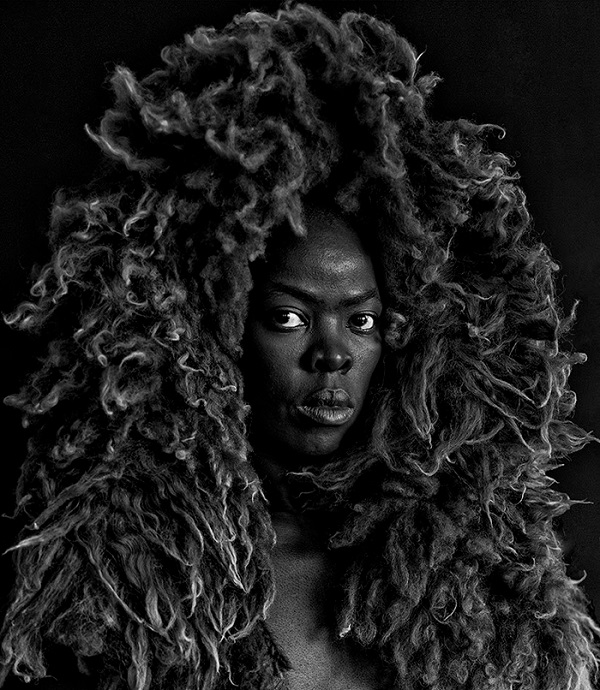 This summer, the Stedelijk Museum Amsterdam mounts the debut museum solo exhibition in the Netherlands of the South African photographer and visual activist Zanele Muholi (Umlazi, Durban). From an 'insider position', Muholi photographs the black lesbian and transgender community in South Africa. Starting with her very first work, Only Half the Picture (2006), and ending with her latest series Somnyama Ngonyama /Hail the Black Lioness (2015 – present), the exhibition is a presentation of Zanele Muholi's amazing body of photographic work of the last 12 years.
Link: http://www.stedelijk.nl/en/exhibitions/zanele-muholi
Image: SOMNYAMA NGONYAMA by Zanele Muholi. Copyright Zanele Muholi.
Zanele Muholi: Somnyama Ngonyama, 'Hail, the Dark Lioness'
Dates: July 14 – October 18, 2017
Venue: Autograph ABP, London, UK
In her first solo exhibition in London, South African visual activist photographer Zanele Muholi (Umlazi, Durban) presents her ongoing self-portrait series Somnyama Ngonyama. By employing the conventions of classical painting, fashion photography and the familiar tropes of ethnographic imagery, Zanele Muholi rearticulates and queries contemporary identity politics and confronts issues of race and representation in the visual archive.
Link: http://autograph-abp.co.uk/exhibitions/zanele-muholi
31 Women
Dates: June 2 – July 31, 2017
Venue: Breese Little, London, UK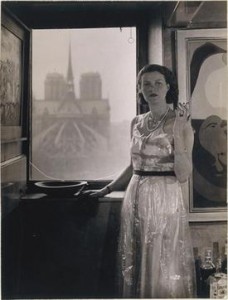 31 Women channels the pioneering spirit of the exhibition at Peggy Guggenheim's New York gallery in 1943. The group exhibition, also featuring artists from within her circle, will combine work by successive generations of practitioners from the 1940s to the present day. Participating artists include Eileen Agar, Laura Aldridge, Cornelia Baltes, Claire Barclay, Rana Begum, Eva Berendes, Helen Chadwick, Angela de la Cruz, Tracey Emin, Lydia Gifford, Celia Hempton, Allison Katz, Lauren Keeley, Ella Kruglyanskaya, Mary Martin, Cornelia Parker, Aimée Parrott, Mary Ramsden, Bridget Riley, Eva Rothschild, Katie Schwab, Jo Spence, Tyra Tingleff, Patricia Treib, Alison Turnbull, Phoebe Unwin, Gillian Wearing, Rachel Whiteread, Clare Woods, Rose Wylie and Catherine Yarrow.
Link: http://www.breeselittle.com/31-women
Image: Peggy Guggenheim, Paris, c.1930, photograph Rogi André (Rosza Klein).
Coming Out: Sexuality, Gender and Identity
Dates: July 28 – November 5, 2017
Venue: Walker Art Gallery, Liverpool, UK
Coming Out: Sexuality, Gender and Identity marks 50 years since the partial decriminalisation of male homosexuality in the United Kingdom. Among the visual artists presented in the exhibition are: Margaret Harrison, Anya Gallaccio, Sarah Lucas. Zanele Muholi, Sunil Gupta, Maud Sulter, Wolfgang Tillmans, Isaac Julien, Hilary Lloyd, James Richards, Pauline Boudry and Renate Lorenz, John Walter, Marvin Gaye Chetwynd, David Hockney, Steve McQueen, Francis Bacon, Grayson Perry and John Stezaker. Central to the exhibition will be a free programme of events and performances.
The show will travel to Birmingham Museum & Art Gallery in December 2017, where it will be re-presented within the major Gas Hall exhibition space.
Link: www.liverpoolmuseums.org.uk
Desire, Love, Identity: Exploring LGBTQ Histories
Dates: May 11 – November 15, 2017
Venue: British Museum, London
A one-room display exploring representations of same-sex relationships throughout history, stretching back to Ancient Greek amphora and early coins. Also included are posters and pin badges from more recent political protests and photographs of modern-day drag queens in Japan. A trail featuring objects in the permanent galleries that relate to LGBTQ histories will also accompany the show.
Link: http://www.britishmuseum.org/whats_on/exhibitions/desire,_love,_identity.aspx
Gay UK: Love, Law, and Liberty
Dates: June 2 – September 19, 2017
Venue: British Library, London
How have perceptions of homosexuality changed and what impact have they had in creating distinctive and dynamic gay identities in the UK? A history of troubles and triumphs is traced through the presentation of oral histories, original manuscripts and rare printed items, including the 1957 Wolfenden Report (which led to the partial decriminalisation of homosexuality in the United Kingdom) and the Gay Liberation Front Manifesto.
Link: www.bl.uk
Odarodle – An imaginary their_story of naturepeoples 1535-2017
Dates: July 21 – October 16, 2017
Venue: Schwules Museum*, Berlin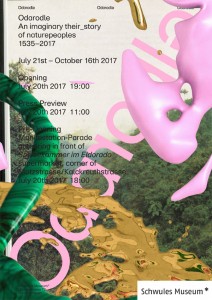 The primary point of departure of Odarodle – an imaginary their_story of naturepeoples, 1535–2017 is the seminal exhibition Eldorado: Homosexuelle Frauen und Männer in Berlin 1850–1950 – Geschichte, Alltag, und Kultur, which opened in 1984 at the Berlin Museum in West-Berlin and is considered by the Schwules Museum* as its institutional origin. What Eldorado ignored, Odarodle picks up on – that the "history of (homo)sexuality" is deeply entangled with concepts of "natural history." This is where the 2nd Eldorado – the colonial myth – comes in. The 3rd Eldorado was a 1920s night club famous for its extravagant "Travestie" shows, where men dressed up and performed as women. The Eldorado was a sexually and politically diverse meeting point. Odarodle elaborates on the anachronisms of the three Eldorados, spatially embedding research-based artworks and archival materials into a series of theatrical installations. The Exhibition is accompanied by a public program of performances, interventions, rituals, films, and talks, as well as an extensive research publication and a three-day symposium in September, offering further discursive and experimental elaborations on the ideas, questions, and concepts that inform the project. Participating Artists: George Awde, Daniel Cremer, Naomi Rincon Gallardo, Vika Kirchenbauer, Sholem Krishtalka, Renate Lorenz and Pauline Boudry, Lucas Odahara, Babyhay Onio, PPKK (Schönfeld and Scoufaras), Benny Nemerofsky Ramsay, James Richards and Steve Reinke, Emily Roysdon and Dusty Whistles.
Curator: Ashkan Sepahvand
Link: http://www.schwulesmuseum.de/en/exhibitions/view/odarodle-an-imaginary-their-story-of-naturepeoples-1535-2017/
SANCTUS by Barbara Hammer
Dates: May 13 – November 26, 2017
Venue: Palazzo Fortuny, Venice, Italy
The group exhibition Intuition explores how intuition has, in some form, shaped art across geographies, cultures and generations. Sanctus (1990, 20 min.), a film by the pioneering lesbian filmmaker Barbara Hammer, will be on display at Palazzo Fortuny, as a part of Intuition, until November 26, 2017. Sanctus is a film of the rephotographed moving X-rays originally shot by Dr. James Sibley Watson and his colleagues. Making the invisible visible, the film reveals the skeletal structure of the human body as it protects the hidden fragility of interior organ systems. Sanctus portrays a body in need of protection on a polluted planet where immune system disorders proliferate.
Curators: Dario Dalla Lana, Davide Daninos and Anne-Sophie Dusselier
Link: http://fortuny.visitmuve.it/en/mostre-en/mostre-in-corso-en/intuition-exhibition/2017/04/17284/intuition-fortuny/
Alice Neel: Peintre de la vie moderne
Dates: March 4 – September 17, 2017
Venue: Fondation Vincent Van Gogh, Arles, France
Alice Neel (1900–1984) was one of the most significant American painters of the 20th century. Her psychologically charged portraits tell intimate and unconventional stories, as much about people living on the margins of society and in subcultures as about the New York cultural elite and her own family. This retrospective, travelling exhibition presents 70 of her paintings. It has already been to the Ateneum Art Museum in Helsinki and the Gemeentemuseum Den Haag in The Hague and will continue to Hamburg later this year.
Curator: Jeremy Lewison
Link: http://www.fondation-vincentvangogh-arles.org/expositions/alice-neel-peintre-de-la-vie-moderne/
ALICE NEEL: UPTOWN
Dates: May 18 – July 29, 2017
Venue: Victoria Miro, London, UK
Alice Neel: Uptown focuses on paintings and drawings made by the artist during the five decades in which she lived and worked in upper Manhattan, first in Spanish (East) Harlem, where she moved in 1938, and, later, the Upper West Side, where she lived from 1962 until her death in 1984. American painter Alice Neel (1900-1984) is famous for painting sitters from all social classes, including gays, Latinos, Blacks and Asians. In so doing, she was breaking away from the canon of Western art.
Curator: Hilton Als
Link: https://www.victoria-miro.com/exhibitions/506/
Annie Leibovitz, Les premières années 1970–1983
Archive Project #1
Dates: May 2 – September 24, 2017
Venue: LUMA Foundation, Arles, France
The first exhibition of Annie Leibovitz's archives, recently acquired by Maja Hoffmann's LUMA Foundation, features several hundred images on display in more than a dozen rooms, covering nearly 1,000 square metres. This is a journey of initiation that retraces Annie Leibovitz's early years at Rolling Stone.
Link: http://www.loeildelaphotographie.com/en/2017/06/01/article/159954132/annie-leibovitz-les-premieres-annees-1970-1983-a-la-fondation-luma/
Patricia Cronin: Shrine For Girls
Dates: June 16 – August 20, 2017
Venue: The LAB Gallery, Dublin, Ireland
One of the critically acclaimed highlights of the 2015 Venice Biennale, this site-specific installation is a meditation on the global plight of exploited girls and women and commemorates three girls raped in India, 276 schoolgirls kidnapped by Boko Haram, and the women of the Magdalene laundries, Ireland.
Special events include a curator and artist's floor talk in the gallery on June 16 at 5pm and a panel discussion with Patricia Cronin, Michelle Browne, Louise Lowe and Dr. Tina Kinsella on June 17.
Link: http://shrineforgirls.org/dublin.html#exhibition
Tove Jansson and the Moomins
Dates: opens on August 9, 2017
Venue: The Tampere Art Museum, Tampere, Finland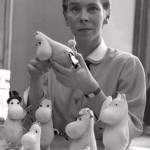 The exhibition traces Finnish author, painter and illustrator Tove Jansson's creative development as the illustrator behind the Moomins as well as the visual evolution of the Moomin characters themselves over the passing years, including the black Moomins from the 1930s, Tove Jansson's satirical 1940s cartoons for the political periodical Garm, the first Moomin souvenirs of the 1950s, and the 1990s Moomin animations.
Link: https://muumimuseo.fi/en/exhibitions/tove-jansson-and-the-moomins/
Lisa Gornick Regrets: a new live drawing show
Dates: August 15 and 16, 2017
Venue: Camden People's Theatre, Camden, London, UK
Lisa Gornick Regrets is a projected real time drawing show about the personal, the political and the heavy duty aspect of regret. An academic and artistic investigation into choice and its chaos, commissioned by UCL Art Museum, London. Lisa Gornick draws whilst storytelling about personal experiences relevant to society at large. .
Link: http://www.camdenfringe.com/show.php?acts_id=1162
http://lisagornick.com/lisa-gornick-regrets