No Fear by Elinore Lindén Strand
Artist Statement and photos by Elinore Lindén Strand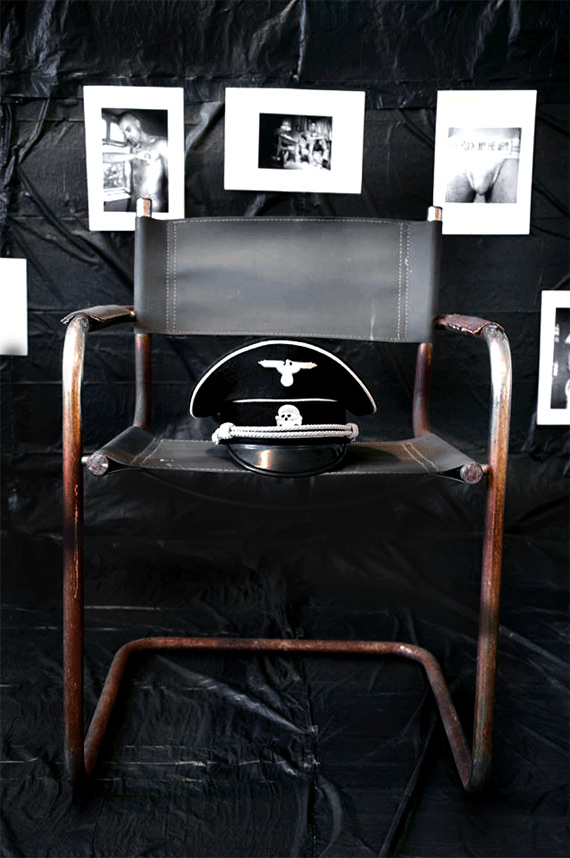 Close-up of No Fear, an installation by Elinore Lindén Strand, 2013.
Splitting her time between Stockholm and Berlin has made Swedish visual artist Elinore Lindén Strand see the European history in a new light. Meeting people who's grandparents fought for or against Hitler during the second world war, she has gotten a more updated focus on the present spread of neo-nazism throughout Europe. In this artist statement she talks about her installation No Fear, which premiered at the queer feminist art exhibition NO FEAR  July 24 – 27, 2013 at KKB in Berlin-Treptow, Germany.
Artist Statement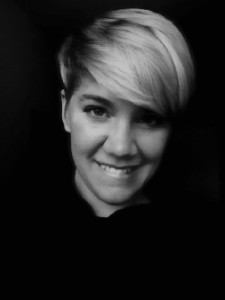 Elinore Lindén Strand: With the Swedish Democrats party in our government, and the growing number of unemployed youngsters in Sweden, I wanted to explore neo-nazism. It is exactly 80 years since Hitler gained power in Germany and our group exhibition NO FEAR took place on historic ground in Berlin. KKB in Berlin-Treptow was built by Herman Goering as an airbase for nazi pilots during the second world war. Goering had strong relations to Sweden. He married a Swedish girl. He worked a couple of years in Stockholm and he had close relations with the Swedish king.
Today Goering's old buildings in Treptow houses the art center of KKB (Kunstkaserne Berlin). The Berlin suburb of Treptow has a big problem with neo-nazis. I just couldn't help to see the connections between Sweden and Germany, both from a historical point of view and from a present, with the neo-nazism spreading and the nationalist parties gaining power throughout Europe.
Many people don't dare to talk about nazism. It's like they're afraid of the N word. I have a friend who survived the neo-nazi terrorist attack at Utoya in Norway, maybe that makes me hear the silence about nazism-issues even more.
I have worked for several years with art projects exploring sexuality and desire, so when I found nazi-uniforms, and nazi-gear being a fetish-style, I wanted to explore that further. I have also researched the international gay skinhead movement, which I think is very multi-layered and highly interesting.
No Fear
My installation titled No Fear is about the fear of nazism and the desire for the clean boots, the short cut hair and the innocent blue eyes. I found that the things we desire the most are often our biggest fears.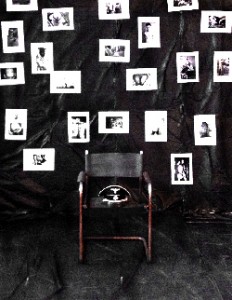 At the NO FEAR exhibition in Berlin-Treptow, I premiered my installation No Fear. It is an installation with several erotic and pornographic gayskin pictures and a copy of a German SS hat. I have remixed and re-printed contemporary queerskin photos in order to create an erotic collage for the installation. I also play erotic queer-punk and old school romantic music in order to get people in the mood. My aim was for the visitors to get in contact with their own ambiguous feelings towards nazism. – What I fear the most is not the nazis, it's the silence surrounding them. If we are able to confront our own desires and feelings, if we can touch the past and feel the present – then we will not be stuck in the panicking feel of fear. And with No Fear – we are more likely to win the battle.
The installation is a process and I hope to continue the project and to show the installation later on at a gallery in Stockholm at Odengatan, the street where Goering lived during his time in Sweden.
Illustrations above: Portrait of Elinore Lindén Strand and exhibition view of Elinore Lindén Strand's installation No Fear at NO FEAR, Berlin 2013.
Related Link
Proud Queer Women Artists, an article by Feminine Moments about the queer feminist exhibition NO FEAR in Berlin, July 2013.
---
Tagged Artists in This Post:
---