OTHER-COMICS Helsinki Pride Workshops & Exhibition
Press release by Heidi Lunabba


Image: Heidi Lunabba 2018, project Other, part of the comic Sistergirl, participants Esther Montgomery and Vanessa Smith, Perth, Australia.
OTHER-COMICS Pride and Pre/After Pride WORKSHOPS for LGBTQIA-people and minorities within the minority
COMICS EXHIBITION
in the yard of the National Museum of Finland during Helsinki Pride September 7-13, 2020.
Mannerheimintie 34, 00100 Helsinki
Other is a norm-chritical community comics project. Through photography text and drawn elements we tell stories about how norms about gender and sexuality affect and limit the lives of LGBTQIA-people as well as for Cis-Hetero-people.
ONLINE workshops
for
LGBTQIA-people
LGBTQIA-people of colour
LGBTQIA-people with disabilities
LGBTQIA-sami people
And other MINORITIES WITHIN THE MINORIT during August & September
Heidi Lunabba will organise groups with people interested in similar viewpoints and then set a theme that suits the participants.
LIVE workshops
during Helsinki Pride September 7-13, 2020 at the Museum of Impossible Forms, Keinulaudankuja 4 E, 00940 Helsinki.
Tue 8th – Wed 9th at 6-9pm
LGBTQIA-people of colour
Tue 8th – Thu 10th at 2-4pm
ageing HBTIQA-perspective
Thu 10th-Fri 11th at 6-9pm
LGBTQIA-people with disabilities
After the Pride:
Wed 16th – Thu 17th at 5-8pm
LGBTQIA-sami people
in collaboration with Luleå Pride and Norrbottens Museum Online and possibility to participate live in Helsinki.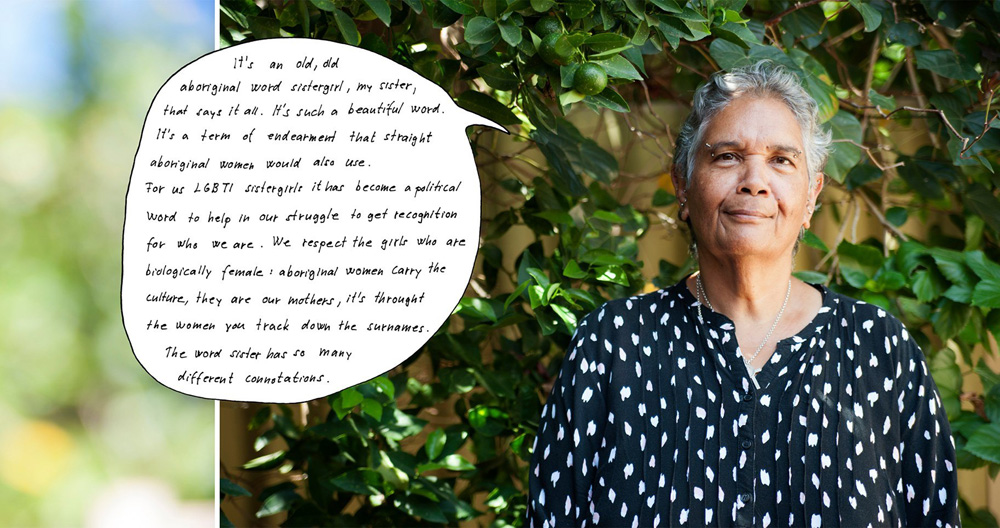 Image: Heidi Lunabba 2018, project Other, part of the comic Sistergirl, participants Esther Montgomery and Vanessa Smith, Perth, Australia.
OTHER-COMICS Worshops
Artist Heidi Lunabba invites LGBTQIA-people for a project to create comics about stereotypes and norms and the different ways to deal with them.
The project consists of a discussion workshop, planning of the comics and photography. Heidi Lunabba leads the discussion where the starting point is the participants' everyday experiences. The discussion on norms is structured so that it is easy for all to participate regardless of previous knowledge about the topic; we strive to create a safe space where there is room the thoughts of all the participants.
We will make comics based on what the participants want to share. The comics are made by combining photos and text. Heidi Lunabba takes care of photography and editing, and the taking the photos will mainly happen after the workshop. Each participant can choose whether they want to be recognisable in the photos or to participate anonymously. The participants must be willing to discuss the topic in a group; no previous experience of comics or photography is needed.
The comics will be shown in an exhibition during Helsinki Pride as well as in museums or galleries and other Pride-festivals. The aim of the project is to create discussion and more space for diversity.
The project consists of a workshop and a photography sessions after the workshop for those that want to feature in a comic. The workshop is 6 hours long and will be held all in a day (with breaks) or split up in 2 or 3 sessions. Adults and youth are welcome to participate in the workshop. Participation is free of charge and possible costs can be covered. Heidi Lunababa aim to organise separate workshops for persons of same or similar minority groups to create a safer space to talk about personal experiences.
Please sign up ASAP
Registration:
by email to heidi@lunabba.com
Safer space
We will follow the Museum of Impossible Forms policy for Safer Space:
https://museumofimpossibleforms.org/mif-safer-space-policy
Accessibility info
We can accomodate participants in Finnish, Swedish and English.
Workshops are small and Lunababa will do her best to accomodate any accessibility needs when informed about them previous to workshop. (Venue can be changed, assistance or babysitting can be arranged, etc.)
Transportation to the workshop can be compensated if you have a receipt, covering trips more expensive than 15€ need to agreed beforehand.
Heidi Lunababa can also do one-on-one workshops.
Live worshops venue accessibility info: https://museumofimpossibleforms.org/gettingthere
The project is organised by Heidi Lunabba in collaboration with Museum of Impossible forms, Helsinki Pride, Sateenkaariperheet ry. And funded by Kulturkontakt Nord, Taike, Svenska Kulturfonden, Konstsamfundet, Oscar Öflunds stiftelse, the city of Helsinki and Suomen Kulttuurirahasto.