Outburst Queer Arts Festival November 12 – 20 2010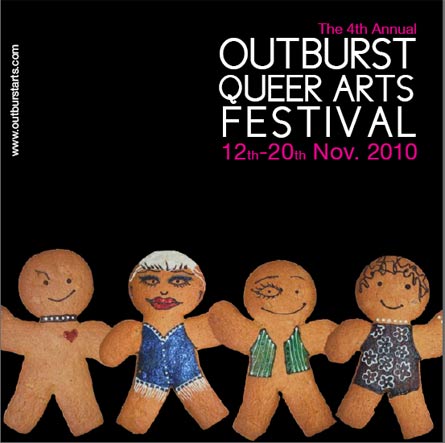 Outbust Queer Arts Festival programme cover 2010; cover image 'Ginger Queers', baked with love by Cakesbyjames.co.uk
Belfast's annual lesbian, gay, bisexual and transgender arts festival starts November 12th, with 8 days of theatre, film, music, art, workshops, performance, discussion and much much more. I have taken a look at the programme of the festival and picked out a few arts events which may be of interest to lesbian art lovers.
FAMILY ART WORKSHOP
SUN 14th Nov. 12- 2pm
LGBT Community Centre, 9-13 Waring St.
Belfast, Northern Ireland
FREE ADMISSION
This event is organized by LASI family group, which is a group for lesbian and buisexual women and their children. Bring your children and enjoy an afternoon of fun and creativity with other women and children. 
More details at www.outburstarts.com
ABNORMAL - WORKSHOP with JU GOSLING
SAT. 20th Nov. 11am- 4pm
Arts & Disability Forum
Ground floor, 109-113 Royal Avenue
Belfast
FREE Admission. Registration essential.
Email: info@adf.ie
What does it mean to be abnormal? Who decides? Do any of us actually feel abnormal? Celebrate your ab/normality!
Join artist Ju Gosling (aka ju90) to explore these themes further with words and art.
Ju Gosling (ju90) is a 40-somthing queer disabled webmaster and multimedia storyteller. She works mainly with digital lens-based media, but also with performance, text and sound.
Her Abnormal exhibition runs from Oct. 15th-Nov. 25th at Arts & Disability Forum, Belfast, with work developed from an artist's residency at the National Institute of Medical Research (NIMR), funded by the Wellcome Trust.
Related Links
Download the Outburst Queer Arts Festival 2010 programme at www.outburstarts.com
Learn more about Ju Gosling at her website