Photographer Sherley Camille Olopherne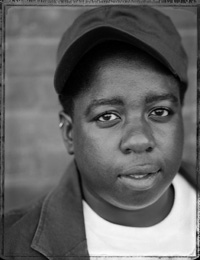 Sherley Camille Olopherne:
'I think my photographic vision is coming into focus just as I'm coming into myself and submitting all of my being to all possibilities wherever they may come. Artistically at a crossroad and committing myself to producing images that present the perverse, the destructive, the sexual, the eroticized and ultimately the beauty of life and women bodies. It is intentional the focus of my photography are of Black women first and everything else thereafter. Exhausted upon entering lesbian spaces to only find ten or so Black women peppered here and there for effect I wanted to create a space where Black women are the sole or at least the central subjects. It's also important to me as an artist that the Black women I showcase thru my photography are not the ones readily visible in lesbian circles and feel it my duty almost to bring to the foreground the Black lesbians with "everyday" tribulations" and concerns.
I often hesitate to label myself an artist. Photography for me is a very selfish action, I simply wanted to interact with my community in a heartfelt and meaningful way and found all other avenues too distant to what I wanted to say, which is simply I/we exist, us Black lesbians, us Black women, us poor, middle class women, us folks who wail unabashedly when hurt, us folks who love maniacally and obsessively, us folks who are simply too "dirty" for the crisp mainstream or heterosexual society.'
'Talking Circle', photo by Sherley Camille Olopherne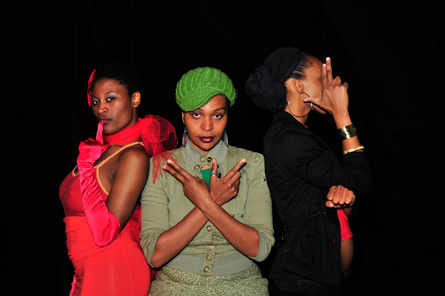 'Black Girl Ugly 2010', photo by Sherley Camille Olopherne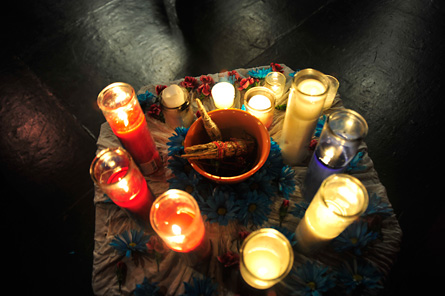 'Alter', photo by Sherley Camille Olopherne
Biography
Brooklyn based photographer Sherley Camille Olopherne was a featured photographer at The Black Woman Arts Festival in 2008, as well as Gaywise Arts Festival 2009. In February 2009 she presented her on going series "Dying Breed: A Look at Butch/Femme" at Lesbian Lives XVI Conference in Dublin. Sherley is a feature photographer for the yearlong program by the Brooklyn Arts Council titled "Black Brooklyn Renaissance 2010." She recently had a solo show titled "Taken Spaces: Black Lesbian Against White Aesthetics" showing at 32 Jones Gallery from June 4-30th,2010. Taken Spaces: Black Lesbians Against White Aesthetics examines the subtleties of moments for black lesbians as they negotiate and insist on space. Historically dominated by white women, the queer and lesbian community is presented in Taken Spaces as a black experience. A collection of portraits and mixed media in the form of collage, black lesbians are exhibited in all their complexities and colors in human and mundane acts. This momentary portraiture presumes. She was also part of The First Brooklyn Pride Art Show that was curated by Angela Jimenez showing at Littlefield in Brooklyn, New York from June 12-30th, 2010.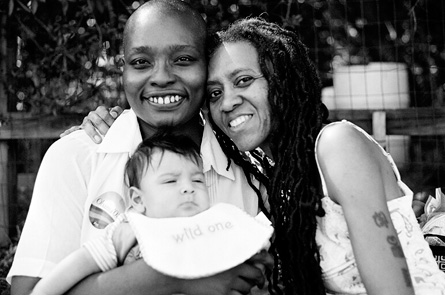 'Lesbian Family Portrait', photo by Sherley Camille Olopherne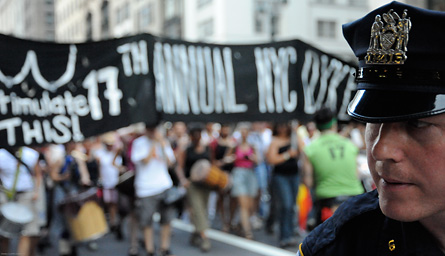 'Against the System', photo by Sherley Camille Olopherne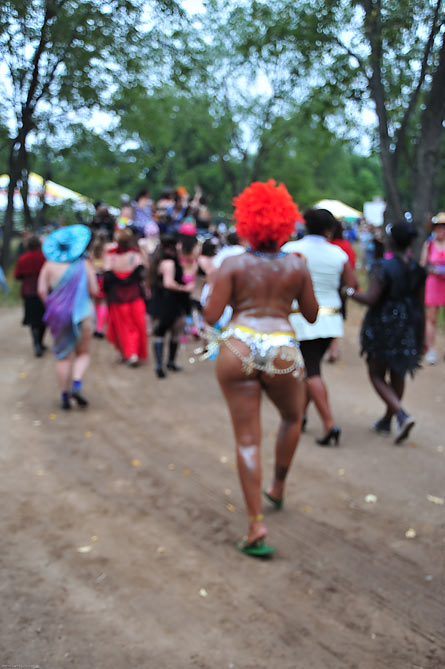 'Femme Parade' photo by Sherley Camille Olopherne