Platform People by Con Artist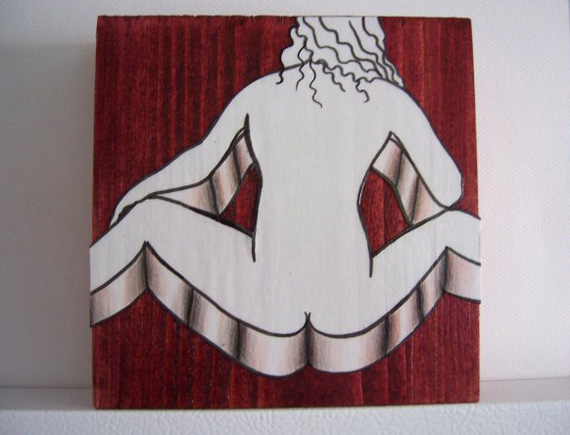 #13 Girl With Spread Legs – from the Platform People by Con Artist.
Artist Statement by Con Artist
First of all let me explain why my name is Con Artist; born Constance Anna Elizabeth Cuttitta. Disowned by my father and divorced, I decided to giv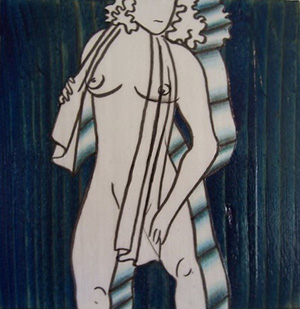 e myself a name the way people chose their names throughout history – according to profession. I am not a con, I am an artist. I have been painting since I was four years, and have a BS Degree in Fine Art. The past few hundred years have claimed most of my youth, dabbling in different mediums such as theater, costuming, surrealism and testing the waters of intimate relationships. I love Argentine Tango. I dance the tanguero / male part of this passionate dance, mostly, but can dance both roles. I perform, choreograph, teach Queer Tango and work on my visual arts projects.
My imagery comes from my vast imagination and strong belief that as a creative person, it is my responsibility to express it, share it and substantiate it. Before I do anything, I ask a higher power to bring to the plate, what my task is and only then do I trust my instinct.
I presently paint in alkyd oil paint, as it dries quicker and I like the immediate gratification. I love sculpture and have worked in ceramic, creating life sized sculptures along with smaller pieces. I sculpt in many mediums. My imagery revolves around different topics: Argentine Tango, Queers, Pedophilia, Menstruation, Erotica, Platform People, Sphenoid Bones, Brasheers t.m., Sleevelings t.m., Flap Floblems t.m. and Humor.
Platform People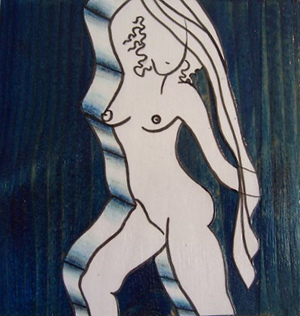 'Platforming' evolved out of feelings of puzzlement… finding the correct puzzle piece that is fitting. The puzzle piece representing myself brought about the first platform person image. Creating these drawings gave me a feeling of belonging, order, and control. I began putting platforms on various images, grounding myself and embracing reality. Platform People are my 3. dimensional version of a flat drawing – the ying and the yang… the push and the pull. It bridges the gap for me between reality and fantasy. It is a series of drawings that are decoupaged over stained wood, with a flocked vinyl ribbon for a frame.
About Con Artist
Con Artist BS Degree in Fine Art at SUNY, Stonybrook, NY, USA, and have exhibited extensively in the United States, Canada, and The Amazon Jungle. Con is based in Huntington, New York, where she hosts an Argentine tango class / practica / art weekly.
Illustrations above: #6 From the Shower and #5 From the Shower – from the Platform People by Con Artist.

#11 Back View Of Girl On Blancket – from the Platform People by Con Artist.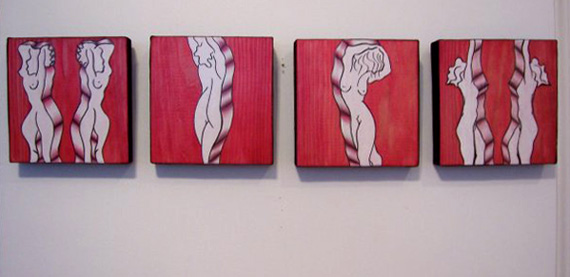 Exhibition view (from left): #3 Two Girls Washing Their Hair, #2 Sex, #1 Love, and #4 Two Girls Streching – works from the Platform People by Con Artist.