Portraits of real life by Mel Ljubović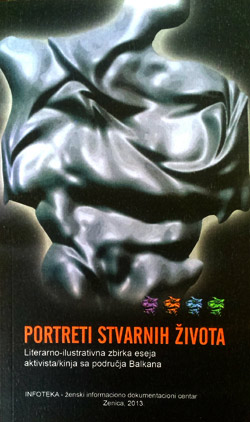 Portraits of Real Life
Editor: Melisa Haćimić-Ljubović
Published: November 22, 2013 by INFOTEKA Zenica, B&H
Edition: Lilith 2
ISBN : 978-9958-9576-7-3
Format : 128 x 210. 159 pages
Portraits of RealLlife
We are proud to present the new publication "Portraits of Real Life : Literary – illustrative collection of essays about activist men and women from the Balkan", a publication by the woman center INFOTEKA Zenica, editorial Melisa Haćimić – Ljubović and sponsored by World Vision, European Union and Heart & Hand Fund.
The collection explores issues of gender equality in the Balkan countries, the theory of feminism, queer theory in literature and life in Bosnia, family and legal frameworks and opportunities, women artists and women throughout history.
Authors of the essays were participating in a project, which was implemented by World Vision BiH with partners from Serbia and Montenegro, and activists from the region located by the editor. The research of the editor was funded by Foundation Heart & Hand USA. Text and also the design of the anthology have been made by representatives and members of the Planet design, Jasmila Talic and Mirnes Ibrahimagić.
"The collection was created to strengthen and sustain. The authors transplanted part of their freedoms with infinite you – readers, all in order of global understanding." –
Melisa Hačimić – Ljubović
There are further initiatives for the extended version of the collection, which will include the texts of the authors from Kosovo, Albania and Bulgaria, as well as a special edition in English.
Promotion [event] of the book "Portraits of real life" will take place on November 29, 2013 in Sarajevo, during The 16 Days of Activism [of feminist movements and organizations on Balkan], where guests will hear Venita Popović head of World Vision, editor and representative of the Planet design Melisa Hačimić – Ljubović, author Jasmila Talić and representatives of the Infoteka from Zenica [speak about the book project].