QUEER INFECTION LAB in Rome – Call for Artists
Press release by GendErotica, Italy
QUEER INFECTION LAB in Rome, Italy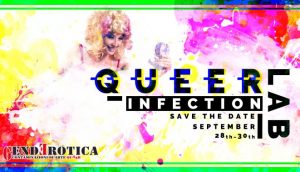 All we need is a look around to be instantly aware we can't keep quiet. There's responsibility, for the ones who still have a ethical approach to activism and cultural action, to break silence, create possibilities, and act knowledgeable of the domino effect every tiny action can have on visibility, on consciences, on a cultural production respectful of diversities. The more violent the wave of obscurantism gets, the more our combined colorful, queer, intersectional, migrant, militant reaction develops into an explosive bout of diversity and critical thinking. Like we said last year, the queer community is thriving, and this second edition of Queer Infection Lab for GendErotica will prove it again.
This call is for all performers, authors, and creators that wish to present their artistic work, or political and cultural reflections, and also to organizers, event curators, and associations who are interested in exploring queer themes and their representation in art. We don't want to focus solely on completed artistic projects, but we also want to include works in progress that might find a space within our lab for knowledge exchange, activist practices, creative workshops, artistic consults, and the possibility of creating a dialogue between the public and the arts.
This call aims to bring together two main audiences:
– We seek artists, organizers, event curators, and associations willing to work as tutors, supervisors, and art consultants, and willing to learn and participate in the creative underground and/or assist with works in progress;
– Cinematographers, documentary filmmakers, visual, figurative, and performative artists with already well-defined projects; those seeking supervision, consultations, and creative collaborations; and artists interested in presenting site-specific work tied to the themes of Queer Infection 2018.
– We are looking in particular for contributions that address the following (but not limited to):
– Research and performative language affects our behaviour and disseminates good
practices for active citizenship and to respect diversities
– The revolution of marginalization
– Trans/gender Trans/cultural and Trans/crossing. Boundaries and borders, migrant bodies, contaminations, the importance of intersectional activism
Please note: we will try to provide free accommodation in Rome, according to availability, for those artists who need one.
Deadline
You are invited to send your artistic proposals along with any technical production guidelines, and your
availability for collaboration to genderoticafestival@gmail.com by August 26, 2018.
For further informations: https://www.facebook.com/GendErotica-contaminazioni-di-arte-queer-107398362927242/
---
Tagged Artists in This Post:
---