Queer Photography in Romania
Ana Dumitrescu is Franco-Romanian photographer. She works mostly with documentary photography and has made assignments for National Geographic, Playboy, Gamma Agency, Mediafax Agency, but for the last couple of years she has also worked together Accept, the only association in Romania that advocates for human rights and gay rights, and used her photography to create a debate about homosexuality in Romania.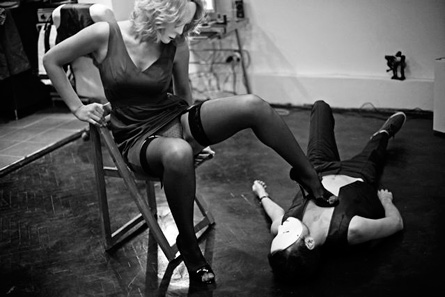 Photo from Ana Dumitrescu's portfolio 'Cupluri' 2009
In May 2009 you could see her exhibitions 'Cupluri' and 'Generatii' at the Gay Fest in Bucharest. Her art project 'Cupluri' is a portfolio with staged photos of anonymous people wearing white masks. Ana explains that she has two reasons for making her models weare masks – Love has no face (no face and no gender) and few Romanians wants his/her face to be associated with being gay/lesbian. However several people have participated in the 'Cupluri' photo project, including Melek, one of the few out and proud Romanian transsexuals. Ana has photographed Melek for the last couple of years. The illustrations of this article are some of her many photos of Melek.
Photo by Ana Dumitrescu, Romania. Model: Melek
Ana tells that it is very difficult for LGBT people in Romania – 84% of Romanians don't want to have a neighbour or a colleague, who is gay, lesbian, bisexual or transgender. And she adds: 'I have a personal concept of sexuality based from liberty, equality and respect. My pictures are carrying the message. My work is based on difference and protection of minorities. Photography is a passion, a passion for image, a passion for people, a testimony and a message about feelings and emotion.'
Photo by Ana Dumitrescu, Romania. Model: Melek
At the moment Ana is working on a photo project about children suffering from Down's Syndrom. If you like documentary photography I recommend that you visit Ana Dumitrescu.