Queer Portraits by Julie Fogarty
Photographer Julie Fogarty
has made a fine portfolio of casual portraits of her queer friends, lovers and acquaintances. Her portraits are on display at the Leslie/Lohman Gallery in New York, USA now.
The entire exhibition hangs in the 30 feet of street front window space at the Leslie/Lohman Gallery. Open for viewing 24/7 from the street. Best viewing time is after sundown at Leslie/Lohman Gallery, 26 Wooster Street, New York, NY 10013.  The show runs through January 8, 2011.
Portraits by Julie Fogarty at Leslie/Lohman Gallery, New York
Julie Fogarty's artist statement for her show at the Leslie/Lohman Gallery
"Portraits in a Queer Time and Place references the book of Judith Hablerstam and focuses on intimacy in a queer context.
Halberstam (2005) makes the claim that there is such a thing as a queer time and queer space. That this time and space matures in opposition to family, heterosexuality and reproductive traditions, giving rise to communities that create alternative forms of close, supportive relationships.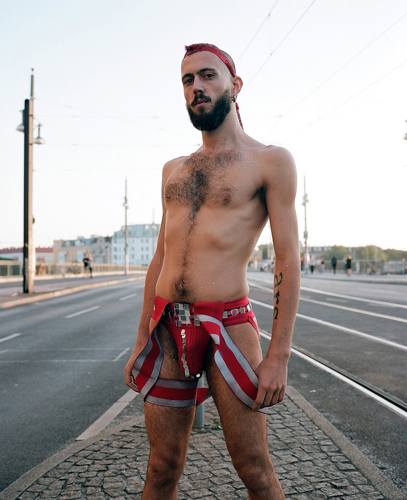 Photo: 'Mr Ties, Berlin, 2009' by Julie Fogarty
My work has both a public and personal element. As a documentary photographer my work creates a record of queer communities and their lives in particular city settings, such as Berlin and Paris.
In Portraits in a Queer Time and Place, I photograph my friends and lovers – people who I know and love and who allow me to get close enough to capture their vulnerability. Being part of this community gives me the opportunity to portray my subjects in their private settings without feeling like an intruder, and to get beyond the protective layer of their public persona.
Ultimately, I am hoping to create honest and relatable portrayals of human intimacy.
– Halberstam, Judith; In a Queer Time and Place: Transgender Bodies, Subcultural Lives (Sexual Cultures), Taschen (2005)"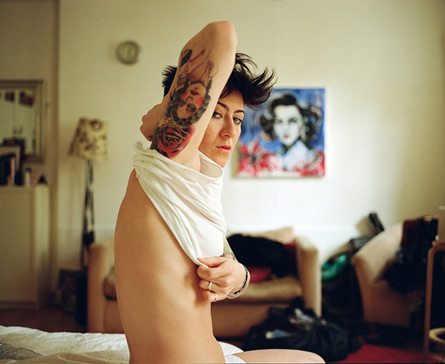 Photo: 'Erin, London, 2009' from the Portraits in a Queer Time and Place portfolio by Julie Fogarty
About Julie Fogarthy
Julie Fogarty graduated from University of Wales, Newport, where she studied documentary photography, she continued working on a series of photographs of her family titled What's Wrong With Ma. Her more recent work continues a personal focus, documenting queer life. Fogarty's work has been shown at AKA, Berlin; Kuma Gallery, Berlin; the National Portrait Gallery, London; Vision Centre, Cork, and published in the Source Photographic Review. In 2006 she was awarded the The National Photographic Portrait Commission.