Rachel Farmer: Ancestors Traversing Quilts
by Leslie-Lohman Museum, New York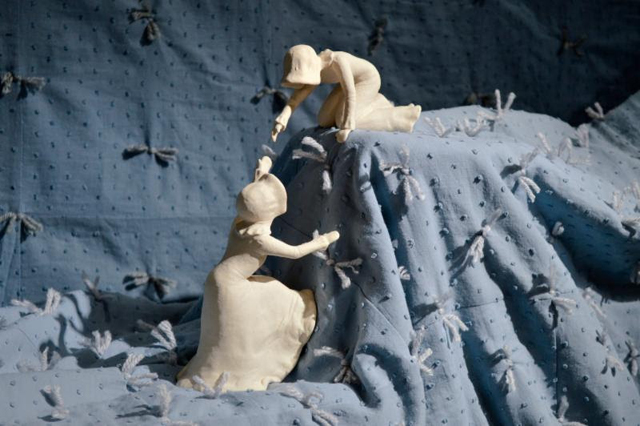 Image: Rachel Farmer, Ancestors Traversing Quilts, 2017. Site-specific installation including ceramic, fabric, batting, and yarn. 77 x 258 x 20 in. Courtesy the artist. Photograph (c) Riya Lerner.
Join us on July 27th for a reception of Rachel Farmer: Ancestors Traversing Quilts
Please join us Thursday, July 27th from 6-8PM for the opening reception of Rachel Farmer's instalation, ANCESTORS TRAVERSING QUILTS [at Leslie-Lohman Museum, New York]. During the reception our Director, Gonzalo Casals will give an informal talk about Farmer's work and process before giving the stage to Farmer to answer any questions.
We hope you can attend!
"My work draws inspiration from a variety of sources: my Mormon pioneer ancestry, childhood play with ceramic figurines, my grandmother's quilts, historical dioramas, and pop culture's invented mythologies of the American West.
This installation grew out of pouring over my great-great-grandfather's diary chronicling his immigrant journey from England to Utah Territory in 1853­­­—while confronting the absence of information about my great-great-grandmother who made the same journey, as a single woman without family, in 1855.
I would like to acknowledge that these quilts were made possible by the communal efforts of many. In gratitude."
– Rachel Farmer