Stockholm Pride: Studio Vilgefortis
Today I will reveal a secret to you: I shave every morning. I love my femininity and am somewhat uncomfortable with my ability to grow a beard… I am not that queer!!! – If I were visiting the Stockholm Pride today (which unfortunately I am not) I would go to talk with Heidi Lunabba about her queer art project Studio Vilgefortis and face the fear of my own masculinity.
Finish artist and queer woman Heidi Lunabba says: 'It is interesting to see that women often are surprised that they actually look quite beautiful with a beard. Many of them are perhaps expecting that they'll look grotesque, but that may not be the case.'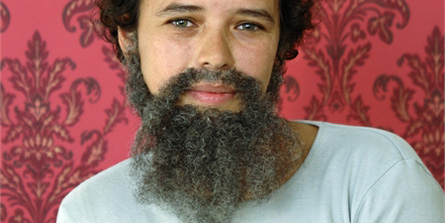 '
Press photo by Studio Vilgefortis courtesy of Stockholm Pride
Heidi Lunababba opens her barbersalon Studio Vilgefortis at the Stockholm Pride
Studio Vilgefortis
August 4 14:00 – 18:00
August 5 14:00 – 18:00
Pride Sergel (Sergel), Kulturhuset & Stockholms stadsteater
Sergels torg 3, Stockholm, Sweden
Tube station: T-Centralen
Have your beard made for free. Children are also welcome.
'The beard is a symbol of masculinity. A woman with a beard is not automatically a man, however the beard can give the woman a feeling of having the right to up take more space or in another way do something, which is considered manly. It doesn't mean that qualities which are considered feminine must go away; and Heidi Lunabba continues: Women with beards creates an ambiguity about their gender, which clashes with narrow minded norms.'
Related Links
Heidi Lunabba's website