'The Lesbian Art Show' in Oregon, USA
Lesbian art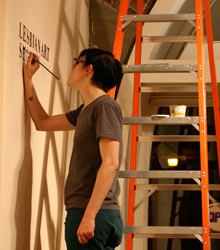 was on display in Fontanelle Art Gallery downtown Portland, Oregon, USA, during the Portland pride in June 2009. The exhibition 'Lesbian Art show', which can be seen on the Fontanelle Gallery's website now, is made by the artists Mary McAlister, Azsa West and Aubree Bernier-Clarke.
Mary explained recently in a radio interview about the Lesbian Art Show, how the creative collaboration with her girlfriend artist Azsa West came about:
'My girlfriend and partner Azsa West, she and I had been talking – we are both artists individually. We have both been working individually as artists on our own separate things, and then we got talking: Maybe we should try working together and make some art and see how that might challenge us as people and challenge our art and maybe push us to do different things, so we started doing that (…) – as an experiment of us working together, collaborating and sort of bringing both our skill sets to the table and creating a body of work. It was really exciting, not only in being able to produce this work with somebody and share that excitement, but also having it as part of our relationship. It definitely enhanced our relationship and brought us closer. It was pretty fun!'
Mary and Asza are striving towards a unique and personal definition of being lesbian. The show represents the timeless and chaotic style of Dada, the intimacies of Left Bank lesbians in the 1920s, and the revolutionary spirit of queer ephemera combined with personal experiences from a recent European adventure, lesbian lifestyles in the 21st century and perhaps most importantly, true love. They deliver their observations and revelations through different Medias – photomontages, 3d collage, installations, paintings and drawings.
Homage to Lesbian Bars and Radclyffe Hall
In addition to Mary and Asza's works an installation 'Welcome to the Well of Loneliness: the world's tiniest lesbian bar' was also on display in the Lesbian Art Show. The installation was constructed collaboratively by Aubree Bernier-Clarke and Mary McAllister.
The artists' statement about installation reads:
'During the process of creating the work in this show, we thought a lot about lesbian spaces and what makes a lesbian space. Since the early 20th century, bars and bar culture have played a huge part in lesbian culture. Bars were private and clandestine locations where lesbians could congregate and meet each other, something that was virtually impossible in the outside world. This was the case when Radclyffe Hall wrote "The Well of Loneliness," and since Hall believed in living a virtuous, sober life, this was frustrating for her.
Today, bars and clubs still play a major role in bringing lesbians together and creating lesbian space. It continues to be a double-edged sword for the lesbian community, the downside being that the lesbian community suffers from high rates of alcoholism. In Portland, there is a vibrant lesbian club scene with several different lesbian-focused events happening every month. With that in mind, our Well of Loneliness pays homage to lesbian bar culture, but also attempts to acknowledge the isolation caused not only by alcohol, but also the lack of lesbian spaces in general.'
Fontanelle Art Gallery opened September 2008. The gallery is founded and directed by two lesbians Jess Fogel and Leslie Miller. Fontanelle is not a queer gallery, but they feel that this type of show fits perfectly with the programme of the gallery and they are very happy about having hosted a show with lesbian artworks by two local artists. The show was a success with lots of visitors especially during the Portland Pride weekend and for a short period the gallery was turned into a queer meeting place. You can see photos from the opening of the show at Fontanelle on Flickr.com.
[Illustration above: Mary McAllister at the Fontanelle Art Gallery, june 2009]
Related Links
An online presentation of 'Lesbian Art Show'
KBOO Portland: Eva Lake (KBOO) interviews artist Mary McAllister and Leslie Miller of Fontanelle about Lesbian Art Show.