There are vulvae around you, if you choose to see them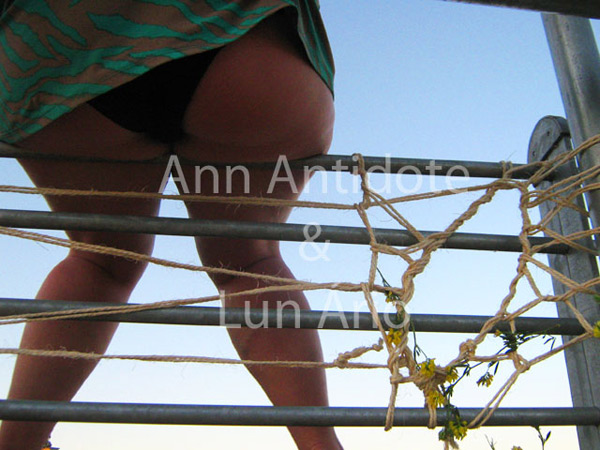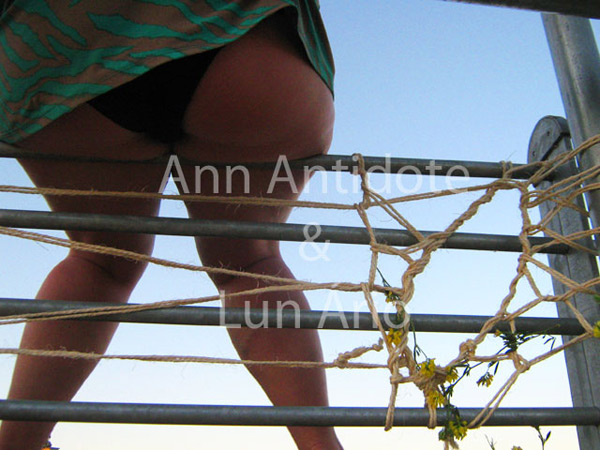 Vulva by Ann Antidote, Photo by Lun Ário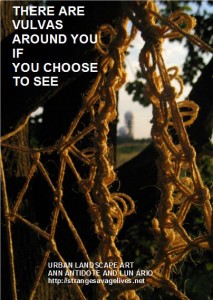 Exhibition in Berlin
There are vulvae around you, if you choose to see them. – Urban + Land art by Ann Antidote; photos by Lun Ário at the Sonntagsclub, Berlin, Germany February 15 to May 31, 2015
Rope vulvae… sweet, hairy, chunky, small, big, obnoxious, discreet, scandalous rope vulvae were tied up in places we felt needed it. Either because the vulvae would make it look better, because the sheer patriarchy of the places screamed for it, or because it was just the obvious thing to to.
The strange life of the savages, a queer art collective founded by Ann Antidote has been installing rope bondage sculptures shaped as vulvae in urban environments, as a way to confront by-passers with representations of femininity, body, and sexuality. The places are chosen out of aesthetic reasons or because of a specially high patriarchal, sexist or capitalist content.
The urban rope vulva project is originally started by JNY. Rope vulvas are right now in several places in Berlin, Lisbon and other locations and will probably be coming to a place near you quite soon. A list can be provided to those wishing to know the precise locations.
Documenting this into film and adding a voice over of queer activists – on topics ranging from queer networks, queer sexwork, solidarity and responsibility, LGBT networks – became the obvious thing to do. The film has been made and will be screened as a part of an installation in future exhibitions of this project.
[Illustration above right: The Kiss Of The Spider Vulva]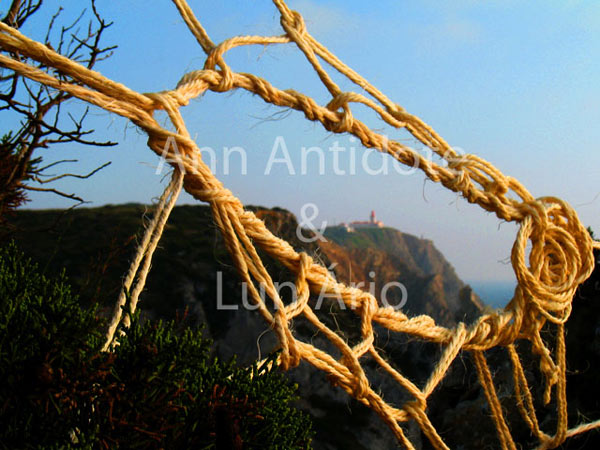 Vulva by Ann Antidote, Photo by Lun Ário
About The Artists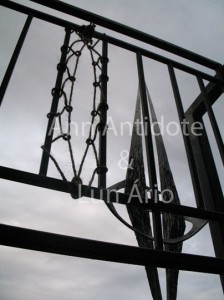 Ann Antidote (*1973) is an autodidact DIY artist, active in the fields of bondage, video, instalation and performance art. She has been active in the promotion of polyamorous, queer and sex-positive lifestyles as empowering and respect-deserving options. This political work permeates her artistic work – video, instalation and performance art, in Berlin, where she lives, and beyond. Ann's work usually challenges gender roles, power structures or any other usual prejudices – either literally or as symbol for other subterranean processes – by offering alternative perspectives and letting the spectator come to hir own conclusions without interference. Not regretting a former life in Physics, she quit her non-art-related day job in 2009, and brought most of these projects under the protective and collective umbrella 'The Strange Life of the Savages' as full-time occupations. Currently she is busy giving a series of talks all over Germany and finishing a couple of performances and films, mostly in cooperation with others.
Lun Ário is a queer sex-positive DIY performer artist based in Berlin. Lun Ário is doing burlesque performance, making movies and teaching shibari since he moved to Berlin in 2009. Lun is committed to a DIY, low-budget aesthetic.