Washing Line in the Colors of the Rainbow – a Community Project
Press release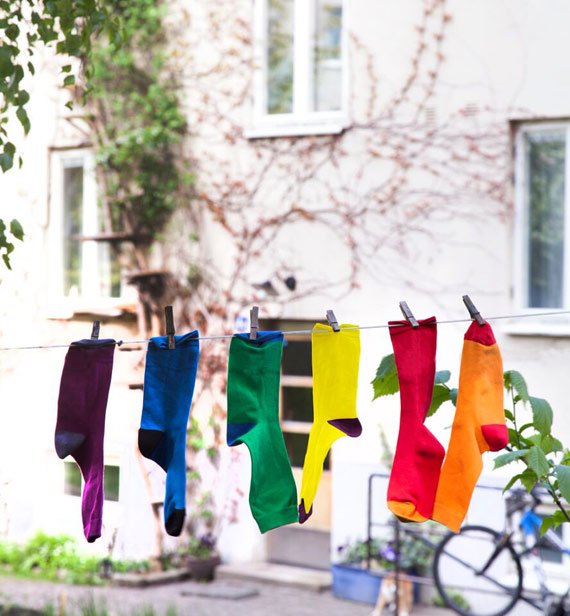 From the Washing Line by Ilar Gunilla Persson
Washing Line in the Colors of the Rainbow, Nordic Tour Starts
at Sápmi Pride in Karasjok, Norway, June 29-31, 2015
Statements against homophobia are needed as the political discussion is getting more aggressive.
Washing Line is a community art project where everyone who wants to show their support for equal values are invited to hang out their wash in the colors of the rainbow, by photographing Washing Lines and sharing images using the tag #tvattlina one can participate from anywhere in the world!
Washing Line in the Colors of the Rainbow is touring the Nordic countries 2015-16, visiting amongst others the Sápmi Pride Festival June 28 – 31, 2015; Helsinki Pride June 22 – 28, 2015; Falu Pride September 19 and Gotland Pride i September 15, 2015.
The artists Ilar Gunilla Persson and Heidi Lunabba started the project Washing Line [= Tvattlina in Swedish] during Jeppis Pride Festival July 25 – 26, 2014, inviting Pietasaari and its vicinity to attend. 'The rainbow washing lines appearing all around the city generated an atmosphere of unity between the usually quiet hetero majority who sees it as self evident to treat everyone equally and the ones personally affected by minority politics. By making the project international we create a movement for tolerance and humanity in countries that sadly share the problem of homophobic and intolerant discussion and a harshening political climate', the artist Heidi Lunabba explains. 'The Sápmi Pride festival is an important festival since the risk of discrimination is doubled as HBTIQ -saami are a minority inside the minority, therefore it feels great to start of the tour in Karasjok', Heidi continues.
'The work for minority rights is usually run by representants for the minority, but Washing Line in the Colors of the Rainbow is inviting the big hetero majority to take part, giving them a chance to take a stand. Most people take for granted that you treat everyone equally, but for those who are afraid to face homophobia it can mean a lot to know that your friend, neighbor, colleague or relative is sympathetic to HBTIQ – people,' Ilar Gunilla Persson explains. Taking part is easy: Pick out clothes or other textiles representing the colors of the rainbow. The fabrics do not need to be one color, it is enough if the dominant color is the color that should be represented in your rainbow. The washing line can be in your courtyard, balcony, summerhouse, car, bike or anywhere visible. If you are a business owner, you can hang the washing line in your storefront.
Taking out clothes from your closet can be seen as a symbolic act that refers to the concept of 'coming out of the closet' but in this case it is simply about showing compassion. To 'come out' can be an important step for an individual. By 'coming out' as a friendly neighbor or fellow human, you are helping to create a society where it is easier for everyone to dare to live with oneself, as oneself.
Send your photos to #tvattlina on Instagram or Twitter
We ask you to photograph your washing line and other rainbow washing lines and share the pictures using the tag #tvattlina on Instagram or Twitter, if you do not use social media or you have a closed account please send the images to rainbowtvattlina@gmail.com or post it on our Facebook page. By photographing and sharing images of washing lines in the colors of the rainbow you participate in the making of an, archive of humanity and love!
#tvattlina – tvattlina.com – facebook.com/tvattlina
Contacts: Heidi Lunabba, +358503493029, heidi@lunabba.com (English, Swedish and Finnish) and
Ilar Gunilla Persson,+46762258714, ilargunilla@gmail.com (English and Swedish)
Washing Line in the Colors of the Rainbow – Events at Sápmi Pride:
Screening:
Premiere: Washing Line – a Friendly Gesture, slideshow of all photographs shared with the tag #tvattlina, May 28 – 31, 2015 Thu-Fri 10 am – 4 pm Sat-Su 11 am – 4 pm and during the workshop at Sámi Dáiddaguvouddaš – Sami Center For Contemporary Art, Finlandsveien 14, 9730 Karasjok, Norway.
Craft/activism-workshop and artist talk:
Let Karasjok wake up to a village full of Rainbows
Friday 29th of May at 5.30 pm – 7.30 pm at Sámi Dáiddaguvouddaš – Sami Center For Contemporary Art Finlandsveien 14, 9730 Karasjok, Norway.
Drop-in workshop for all
also heteros – no craft skills needed. The workshop starts by the artists presentation of the project. Craft: we make miniature Washing Lines in the Colors of the Rainbow of paper or fabric for the rucksack, as a necklace or as a window decoration. Make a washing line for yourself or many as gifts for your friends or for hanging out around the Village. Materials are provided but you may also bring your own. Activism: We prepare washing lines and go hanging them around the village. There are some rainbow colored textiles for the workshop but if you have colorful clothes or other textiles that you don't use anymore please donate them to the project! There is a donation basket at the Art Centre from May 28, 2015.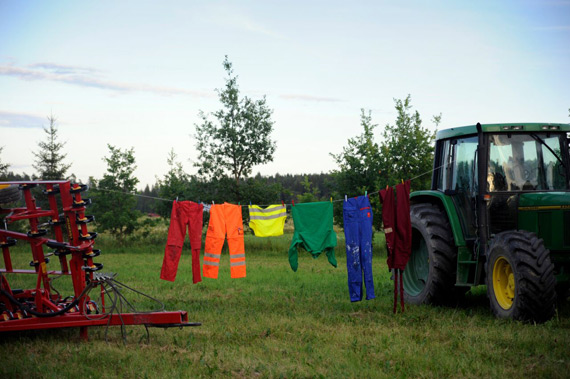 Traktor, from the Washing Line by Heidi Lunabba
Thanks for the support and collaboration:
Nordic Culture Point, Kulturfonden för Sverige och Finland, Arts Promotion Centre Finland, Arts Promotion Centre Finland, Jeppis Pride, Sápmi Pride, Helsinki Pride, Falu Pride, Gotland Pride, Galleri Gro, Sami Center For Contemporary Art, Måndagsklubben Window Gallery and Kierrätyskeskus Helsinki.