Hey sailor, like a tattoo? – New Impulse Gallery opening in Amsterdam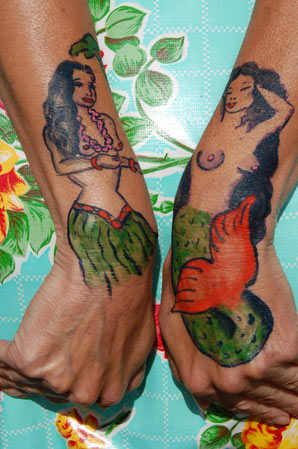 You can get a hand painted temporary tattoo made by queer artist Chantz Perkins at the new Impulse Gallery during the Sail 2010  in Amsterdam, Holland.
Impulse Gallery is funded by four artists, who want to promote and sell new works in various mediums: Garden sculptures, photography, paintings, ceramics, design, stone & bronze sculptures, henna art and more… And they invite guest artists to join them every month.
Impulse gallery, at Old Volkskrant Building, Wilbautstraat 150, 1091 GR Amsterdam is a place where you can buy affordable art.
Impulse Gallery opens 20 August during Sail 2010. For this they are making a special Sail 2010 event, with sailor and water related art, and temporary tattoos hand painted on you by the artists. The cost is minimal – 5 to 10 euros each tattoo.
Chantz invites you to the opening, so go and have drink a cold wine and get have yourself tattoo'd at the gallery. Impulse Gallery will be open through the weekend (13:00 – 18:00) and will continue with other events every third weekend per month through the year.
Above – Temporary tattoo: hula mermaid by Chantz Perkins
---
Tagged Artists in This Post:
---