A Queer Art Exhibition About Power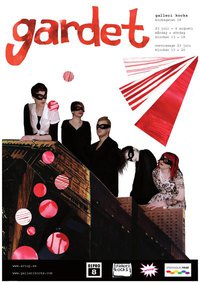 The queer Swedish art group Gardet: Kajsa Boklund, Elinore Lindén Strand, Frida Gustavsson, Julia Nilsson and John Erlandsson will be presenting their latest works of art durring the Stockholm Pride 2010. Their art show July 23 – August 4, 2010 is titled 'En utställning på temat makt'. It consists of works of art exploring the theme: Power. Gardet invite you to the opening of their show in Stockholm:
Galleri Koks
Kocksgatan 18
Stockholm, Sweden
Opening of the exhibition: July 23, 2010, 13:00 – 20:00
Related Links
Read Feminine Moments recent article about Elinore Lidén Strand and Frida Gustavsson.
Visit Elinore Linden Strand website or Julia Nilsson's blog.