Art Catalog – Portraits by Juliette Gorges Coppens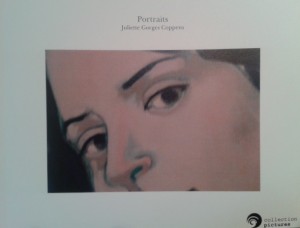 Portraits by Juliette Gorges Coppens
Published by www.thebookedition.com (2013)
This new catalog (right: the cover of the catalog) by French painter Juliette Gorges Coppens presents 32 portraits of women. Juliette's series of paintings – oil on canvas and oil on paper – are sensual and erotic portraits of women and lesbian couples made in the period 2009 – 2013.
About Juliette Gorges Coppens
Juliette Gorges Coppens, born 1969 in Paris, is an out artist working and living in Berlin. She works with different medias, sketches, collages, stained glasses, but her favorite is oil on canvas or on paper, the technique, which is used in her series 'Portraits'.