'Bad' Art by David Wojnarowicz
Artworks by leading queer American artists can still cause debate and censorship in the USA. A video by gay artist David Wojnarowicz has been censored at the Smithsonian's National Portrait Gallery. Fearing that the whole show would be closed by Republicans in Congress, the director of the museum had a David Wojnarowicz video removed from the queer exhibition 'Hide/Seek: Difference and Desire in American Portraiture' recently.  You can see (the rest of) the Hide/Seek exhibition through February 13, 2011.  It is a mixed queer exhibition, among the lesbian artists featured in this show are Annie Leibovitz, Cass Bird, Romaine Brooks, Bernice Abbot and Nan Goldin.
The Foxnews.com writes: 'The Smithsonian Institution's National Portrait Gallery is under fire for hosting an exhibit titled 'Hide/Seek,' which is filled with homoerotic art such as an image of two naked men embracing, Ellen DeGeneres grabbing her breasts [by Annie Leibovitz] and other controversial installments like a video of Jesus on a crucifix covered in ants' [the video by Wojnarowicz, which was removed from the exhibition].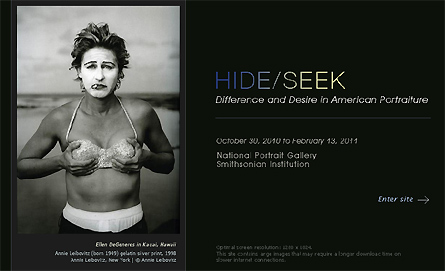 The Hide/Seek exhibition website with Annie Leibovitz's photo of Ellen Degeneres, December 2010.
Hide/Seek, curated by Jonathan D. Katz, is the first museum exhibition to focus on sexual difference in the making of modern American portraiture. The photo of Ellen DeGeneres grabbing her breasts is the cover photo of the Hide/Seek website. The exhibition site presents samples of artworks and artists. You can also find a slideshow with photos of the controversial artworks at the FoxNews website.
Feminine Moments previous posts about Hide/Seek
Hide/Seek Exhibition At The Smithsonian, USA in which I mention the exhibition catalogue and
Queer portraits at the Smithsonian in which I am happy to see that contemporary photographer Cass Bird has been selected for the exhibition.
---
Tagged Artists in This Post:
---