Femina Potens Art Gallery – 10 Year Anniversary
Text: Femina Potens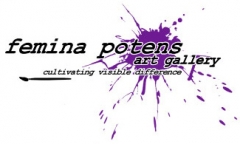 Femina Potens Art Gallery will be celebrating our 10 year anniversary this December! Reaching this decade mark is an exciting time to be embarking on a new adventure. We have some changes happening that we want to share with you.
November will be Femina Potens's last month in the 2199 Market Street space [in San Francisco, California, USA]. We will be moving from the corner of Market & Sanchez to transition into a new space which is full of exciting and new opportunities.(…)
Note from the Executive Director, Madison Young: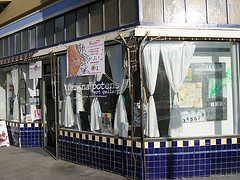 This year has been one of huge milestones and growth for Femina Potens and myself. The gallery is turning 10 years old in only a couple weeks. I remember so distinctly the first gathering of Femina Potens. I had stolen the name from a tattoo on a girls arm, that stole my heart. The name: Femina Potens – meaning Powerful Women. Its Latin origin, a dead language, giving me room to redefine what it meant to be a Strong Woman, what it meant to be a Woman or one's surrounding identity around feminine and masculine energies. I was only 20 years old but felt a very clear calling to create space for people to feel comfortable to express and explore their identity, their bodies, their boundaries, with out shame through art, sexuality, and education. I wanted to provide visibility of difference to those that were experiencing isolation so that they might see a reflection of themselves and their communities in art and performance. I've carried this vision out through my ventures with the gallery, film, performance and workshops. Its still something I believe wholeheartedly in and its amazing to see the growth, difference and visibility that we have been able to achieve for those who exist on the fringe, my fellow artistic and sexual playmates on the island of misfit toys. The strength and unity of our community here in San Francisco and abroad, truly amazes me.
10 years later, we have produced over 400 art & sexuality events for the community, garnered accolades from local and international press as well as television programs, been honored with Best of the Bay Awards, and had the distinguished pleasure of showcasing some of my favorite artists and performers in the world including Margaret Cho, Bell DeJour, Annie Sprinkle and Beth Stephens, Dossie Easton, and Jack Halberstam.
And we aren't done yet. Femina Potens is ready for the next level. We are taking a huge step this year and moving to a larger space on Market St that will provide more room, more programs, more artist's resources, and further collaboration with community organizations in the San Francisco Bay Area. Our move to our next gallery space won't be taking place until later in 2011, but in the interim we will be providing all of our same amazing programming at Mission Control. In addition to the birth of our new space for Femina Potens, I'm bringing a new little "femina potens" into the world in 2011 as well. I'm expected to give birth to this powerful little girl in early March and can't wait to share with my daughter the joys of feminism, body awareness, body positivity, and a safe space for her to discover her own identity.
Whether you have attended one event at Femina Potens, are an artist, a supporting member, devoted fan, performer, educator, filmmaker, smut maker, rebel rouser, sexual activist, writer, kinkster, sex worker or ally, thank you for your support and love and for making this an amazing first 10 years. We look forward to your support and energy in making the next ten years even more spectacular.
With all of my love, devotion, and powerful orgasms,
Madison Young
Executive Director
Femina Potens Art Gallery