Exchange Your Pegasus For a Work of Art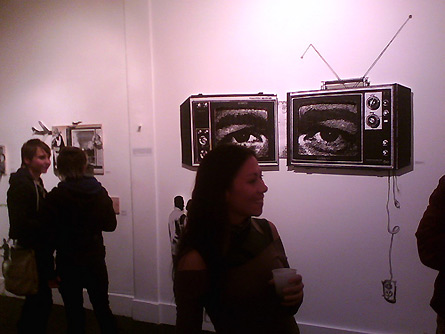 Photo from the opening of "Morbid Fantasies" in The Femina Potens Gallery, november 2008.
"Morbid Fantasies" A Queer Exhibition in California
If you are the owner of a live pegasus, you can now exchange it for a work of art by Brittany Howard in Femina Potens' online shop. If you don't own a pegasus, you have to pay full price: $950 for Brittany's "absurdities: (d.) absurdest", – see the work of art with the two starring eyes in the photo above.
This month you can see whimsical and grotesque artworks by Brittany Howard, KuKula and Sita Rupa in The Femina Potens Art Gallery, California USA. Brittany Howard is a painter and mixed media artist from California. Kulula is a painter, illustrator and graphic artist, who was born in Israel. She is living in California now, where she paints semi nude small girls with big eyes and long hair. Sita Rupa (USA) has obtained her B.F.A form the California College of Arts and Crafts and is now a self employed painter/photographer. In the show you can her silkscreen paintings on wood of everyday objects.
The exhibition "Morbid Fantasies" runs through November 30, 2008 at The Femina Potens Art Gallery in San Francisco.
Related